○
News brief ◆ Washington Post, 2022-7-3: these steps (asymmetric warfare) may not be enough to repel a far more powerful opponent like China. Taiwan's mandatory military service ... spend more time doing menial labor than learning combat skills. Tactics taught are comparable to those (Gulf War or the Vietnam War) ◆ N.Y. Times, 2022-6-19: A Looming Threat / ...Taiwan politicians have electoral considerations. Extending military conscription, for example, would probably not be very popular ◆ New York Times, 2022-6-13: Taiwan's defenses are, by many accounts, ill-equipped and understaffed...Should China invade, Taiwan's defenses will almost certainly crumble unless the United States and its allies help. ◆ AFP, France24, 2022-6-10: China will 'not hesitate to start war' if Taiwan declares independence, Beijing says ◆ NY Times, 2022-6-10: American officials ... worry that China's leader, Xi Jinping, may be willing to go to war over Taiwan in the coming years. ◆ CNN, 2022-6-1: China has the power to take Taiwan, but it would cost an extremely bloody price ...China is more likely to emulate the "shock and awe" bombardments that preceded the US' invasions of Iraq. ◆ Daily Express (UK), 2022-5-30: Putin is winning his war, China Taiwan is next and that will be so much deadlier ◆ New York Times, 2022-5-27: A 2018 congressionally-mandated assessment warned that America could face a "decisive military defeat" in a war over Taiwan ◆ NY Times, 2022-5-24: the US is trying to walk a fine line between deterrence and provocation... risk pushing President Xi Jinping of China to order an attack on Taiwan ◆ NY Times, 2022-5-24: Former presidents have hinted that the United States would fight for Taiwan but have otherwise remained studiedly vague...Taiwan's defense budget... remains scandalously low ◆ New York Times, 2022-5-7: US presses Taiwan to buy missiles and smaller arms for asymmetric warfare (Suited to Win Against China); But some Taiwanese defense officials are resistant. ◆ cyber-link
 
US military would defend Taiwan ?
◆

New York Times, 2022-5-23:

Biden Says U.S. Military Would Defend Taiwan if China Invaded

,

dispensing with the "strategic ambiguity" traditionally favored by American presidents

...

The White House quickly tried to deny ...

,

Mr. Biden's unscripted declaration put Japan in a complicated position.

。

nytimes.com/2022/05/23/world/asia/biden-taiwan-defense.html

◆ Guardian, 2022-5-23: Biden's Taiwan vow creates confusion not clarity – and raises China tensions theguardian.com/us-news/2022/may/23/biden-taiwan-china-strategic-ambiguity-us-foreign-policy
◆ Wall Street Journal, 2022-5-23: "We agree with the One China policy and all the attendant agreements we made. But the idea that it can be taken by force, just taken by force, would just not be appropriate," Mr. Biden said.。wsj.com/articles/biden-says-u-s-would-intervene-militarily-if-china-invaded-taiwan-11653286228
◆ New York Post, 2022-5-23:White House walks back Biden Taiwan defense claim for third time in 9 months nypost.com/2022/05/23/white-house-walks-back-biden-taiwan-defense-claim-again/

◆ Politico, 2022-5-23:The president's "strategic ambiguity" backtrack may hasten Taiwan Strait conflict, observers say
◆ Economist, 2022-5-23: the gap between presidential statements and official policy is giving rise to a new form of ambiguity—strategic perhaps; or maybe simply incoherent

economist.com/the-economist-explains/2022/05/23/what-is-americas-policy-of-strategic-ambiguity-over-taiwan

◆ BBC, 2022-5-23:Biden vows to defend Taiwan in apparent US policy shift
◆ TIME, 2022-5-23:president Biden's Vow To Defend Taiwan Is Bold but Incredibly Risky
◆ Global Times, 2022-5-23: Biden's remarks on 'intervening militarily' in Taiwan question not gaffe but signals hollowing out one-China policy
◆ New York Times, 2022-5-24: Asked if he would send in troops if China attacked Taiwan, Biden said, "The policy has not changed at all."
◆Wall Street Journal, 2022-5-4: Since the Chinese economy is 10 times as large as the Russian economy, effective sanctions would be virtually impossible to enforce. Taiwan's lack of preparedness is increasingly dangerous. ◆ Economist, 2022-4-20: the main lesson that China will draw from Ukraine is the need for speed—ideally achieving victory within days; Taiwan can learn ...Fighting spirit and the right Western arms may stymie a powerful foe ◆ Japan Times, 2022-4-19: U.S. 'strategic ambiguity' over Taiwan must end! US policy of ambiguity toward Taiwan is now fostering instability in the Indo-Pacific region, by encouraging China to underestimate U.S. resolve... ◆ Wall street Journal, 2022-4-18: Kyiv's successful use of internet to counter Moscow highlights Taiwan's reliance on undersea internet cables that China could cut ◆ Fox News, 2022-4-15: Senator Sasse wrote: Congress plays a foundational role in the interpretation of the Taiwan Relations Act...Chinese spokesman: some in the U.S. attempt to use Taiwan to contain China. ◆ Daily Mail, 2022-4-14: Taiwan remains massively outgunned against China but the mountainous island would be a formidable challenge for any military to conquer ◆ Daily Mail (UK), 2022-4-10: China accelerates work on more than one HUNDRED missile silos that could house nuclear weapons capable of reaching U.S. soil - to deter America from intervening in conflict over Taiwan
◆ Fox News, 2022-4-4: "It's not if China moves into Taiwan, it's when" ◆ Wall street Journal, 2022-3-29: Moves under discussion in Taiwan are still far from the kind of major revamp that some experts in the U.S. and elsewhere say is needed to upgrade Taiwan's military ◆ New York Times, 2022-3-20: If Russia succeeds in overtaking Ukraine, it increases the danger for Taiwan ◆ TIME, 2022-3-18: most analysts say that the island would not be able to stop a full-scale invasion on its own—and Ukraine's situation has sparked debate over whether anyone would come to Taiwan's aid ◆ Politico, 2022-3-14: Taiwan's military may be rightly criticized for its poorly coordinated forces, and its government has been hesitant to invest in its own defense...PLA would be more motivated than the Russian forces...China's deep integration into the global economy and the leverage of Beijing's $1,068 billion in treasury bonds would make Western sanctions more painful to implement ◆ Economist, 2022-3-5: Taiwan's sloth in reforming its defence capabilities and strengthening its deterrence. Taiwanese seem too uninterested to fight to defend their land. ◆ Washington Post, 2022-3-4: Taiwan's leaders try to calm fears over Ukraine invasion, but citizens worry their island will be next ◆ Economist, 2022-2-26: Parallels with Taiwan colour Asian views of the war in Ukraine - Some fear a Chinese invasion has become more likely ◆ New York Times, 2022-2-23: With some seeing parallels to Ukraine, Taiwan steps up its defenses ◆ for full text, pls. click cyber-link
 


What Should The US Do If China Invades Taiwan ? TIPP Poll 2022-3-2 ~ 3-4, 1318 adults, online survey

 
come to defense of Taiwan
directly via MILITARY action
economic sanctions
combination of military action
and economic sanctions
allow China to take Taiwan
not sure
overall
14%
27%
23%
6%
29%
Democrats
15
33
22
6
24
Republicans
16
27
27
n/a
25
Independents
11
22
24
9
34
Conservatives
17
27
28
6
21
Moderates
12
26
19
6
36
Liberals
15%
32%
25%
5%
22%
19fortyfive.com/2022/04/a-chinese-invasion-of-taiwan-what-response-would-americans-support/ TIPP Insights

◆ CNN, 2022-2-3: China's leaders may be watching Ukraine with an eye on Taiwan ◆ USA Today, Yahoo, 2022-2-10, "Chinese Taipei" , the label implies a link to China... younger people have said they feel increasingly distant culturally from the other side. ◆ Brookings, 2022-2-7: why is unification so unpopular in Taiwan? It's the PRC political system; A majority of our respondents — 56% — said Taiwanese culture was similar to Chinese culture. 72% rated China's government as at least somewhat unfriendly. ◆ Washington Post, 2022-1-24: Defending Taiwan is a worthy goal. But are we ready for heavy casualties? it would be a grave mistake for the United States to promise to defend Taiwan without preparing its public — and its soldiers — for the tough fight they could face ◆ New York post, 2022-1-21: Rep. Michael McCaul predicts Chinese invasion of Taiwan after Winter Olympics ◆ New York times, 2022-1-19: China's Growing Menace Hardens Island's Identity ◆ France24, NY Post, Daily Mail(UK), 2021-12-30: China warns US will pay 'unbearable price' for backing Taiwan ◆ Reuters, 2021-12-20: Chinese spies have penetrated Taiwan's military, Even the security detail of President Tsai Ing-wen has been compromised ◆ Hill, 2021-12-20: China could obliterate Taiwan. It could seize Taiwan's tiny islands ... impose an embargo... And it could attempt regime change... ◆ NY Times, 2021-12-10: As China has built up its military presence, the U.S. has sought to widen its alliances in the region. A major potential flash point is Taiwan ◆ Times (UK), 2021-12-10: The US won't fight to save Taiwan or Ukraine ◆ Financial Times (UK), 2021-12-5: US defence chief warns of China 'rehearsals' for attack on Taiwan; Lloyd Austin cites concern over scale and frequency of Beijing's military sorties ◆ Reuters, 2021-12-3: Blinken says any move by China to invade Taiwan would have 'terrible consequences ◆ NY Times, 2021-11-29: China is developing advanced weapons, leading U.S. officials to push for the first nuclear talks ◆ The Hill, 2021-11-22: as things currently stand, the U.S. can't deter Beijing ◆ NY Times, 2021-11-15: Biden and Xi meet amid tensions in an effort to keep "communication lines open" and avoid military action — American officials remain concerned that the chances of avoiding conflict may be diminishing. ◆ CBS, 2021-11-16: Biden's virtual summit with China's Xi focuses on "managing strategic risks" like Taiwan...while there had been no major breakthroughs ◆ The Guardian, 2021-11-16: Biden-Xi virtual summit: leaders warn each other over future of Taiwan ...the US is increasingly nervous about the rapid development of Chinese conventional and nuclear military forces. ◆ WSJ, FoxNews, 2021-10-25: the island's military is riven with internal problems...Among the most pressing concerns are poor preparation and low morale among the roughly 80,000 Taiwanese who are conscripted each year and the nearly 2.2 million reservists. ◆ New York Times, 2021-10-9 : "starting a fire" : US and China enter dangerous territory over Taiwan... with potential to ignite military conflagration and reshape the regional order ◆ New York Times, 2021-10-15: Taiwan has a spotty record when it comes to fire safety... raise questions about whether the self-governing island,... had overlooked basic safety concerns in the rush to develop ◆ BBC, 2021-10-6 :China-Taiwan military tensions 'worst in 40 years' ◆ Guardian, 2021-10-5 :The prevailing mood among Washington insiders is to fight if China attempts to conquer Taiwan. hard reality that fighting China over Taiwan risks an almost-certain military defeat – and gambles we won't stumble into a nuclear war. ◆ Reuters, 2021-10-5 : experts say the island could likely only hold out for a few days in the event of a Chinese attack unless the United States quickly came to its aid ◆ New York Times, 2021-10-3 : Beijing sent a record number of planes near the island, ...a display of strength that underscored Chinese demands for unification ◆ Financial Times (UK), 2021-9-16 :Taiwan is failing to reorient its military towards an asymmetric strategy, US defence experts are growing exasperated over the Taiwan military's reluctance to decisively act on their instructions. ◆ New York Times, 2021-9-13 : if China has any hope of winning a war across the Strait, its military would have to move fast, before the United States has time to respond... the Chinese economy would suffer more ◆ Nikkei Asia (Japan), 2021-9-10: Will Xi move on Taiwan? History warns he might ◆ Reuters, 2021-9-1 :Taiwan says China can 'paralyse' its defences, threat worsening ◆ VOA, 2021-8-28 : Survey: Most Americans Support Defending Taiwan if China Invades◆ Financial Times, 2021-8-23: Anti-Beijing sentiment is growing but the government has done little to prepare the public for war...The majority of Taiwanese do not believe there will be conflict with China...Taiwan is avoiding 'the underlying reality...the Taiwanese public has no appetite for militarising society or even discussing defence. ◆ WSJ, 2021-8-23: Will America Fight to Save Taiwan? Will the Taiwanese? ◆ Politico, 2021-8-19:The fundamental challenge to the U.S. commitment to Taiwan is the growing tension between maintaining bilateral strategic stability with China and fighting China over Taiwan in a violent military conflict that has every potential to escalate into an all-out major power war ◆ CNBC, 2021-8-19: President Joe Biden will likely remain ambiguous about whether it will defend Taiwan if Beijing uses force against the island ◆ FoxBusiness, 2021-8-19: China's Xi Jinping is forecasting he will invade Taiwan, the US better listen ◆ for full text, pls. click cyber-link

pic. : This websites group was ranked No.1 by keyword "introduction to Taiwan"
on Yandex of Russia (largest engine in Russia) at 2022-7-7, 2022-7-1, 2022-6-24, 2022-6-15, 2022-6-12, 2022-5-26, 2022-5-14, 2022-4-30, 2022-3-14, 2021-12-27, 2021-12-4, 2021-11-21, 2021-10-21; No.2 at 2022-4-9, 2022-2-25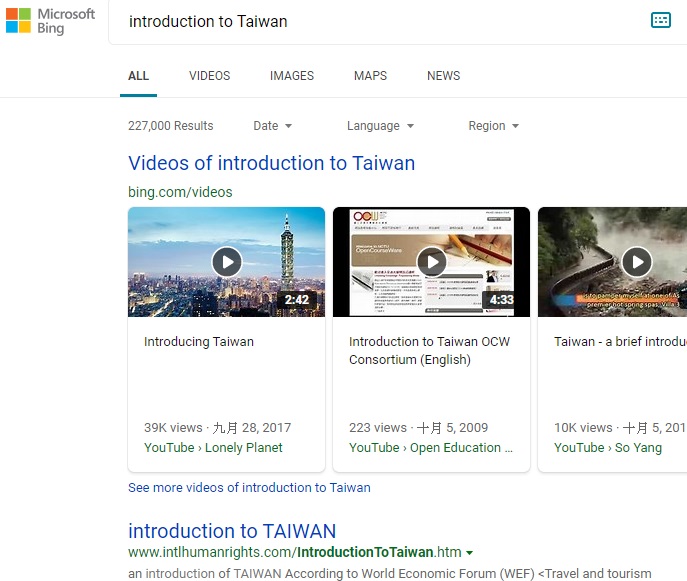 pic. : No.1 by keyword "introduction to Taiwan" on Bing at 2022-6-24, 2022-5-14, 2022-4-30, 2021-11-21, 2021-10-21, 2021-9-21, 2021-8-5, 2021-6-15, 2021-6-2, 2021-5-13, 2021-4-18, 3-3-2021, 1-29-2021, 01-01-2021, 12-6-2020, 11-29-2020, 11-11-2020, 10-25-2020, 8-5-2020, 8-2-2020, 7-6-2020, 6-21-2020, 6-11-2020, 6-5-2020, 5-21-2020, 5-12-2020, 5-8-2020, 4-20-2020, 4-10-2020, 3-20-2020, 2-24-2020,1-27-2020, 1-15-2020, 12-25-2019,
12-16-2019,11-6-2019, 10-6-2019, 9-17-2019, 8-3-2019, 7-29-2019, 6-27-2019, 4-29-2019; No.2 at 2022-2-22, 2021-12-4 This websites group was ranked No.2 "introduction to Taiwan" on Bing, 2022-4-9, 2022-3-25, 2022-3-14


:pic.: No.1 "introduction to Taiwan" on ecosia of Germany, 2022-6-12, 2022-5-14, 2022-4-30, 2022-4-9, 2022-3-25, 2021-10-21, 2021-9-21, 2021-8-5, 2021-6-15, 2021-6-2, 2021-5-13, 2021-4-18, 3-3-2021, 1-29-2021, 10-25-2020, 8-9-2020; No.2 at 2022-2-25, 2022-2-22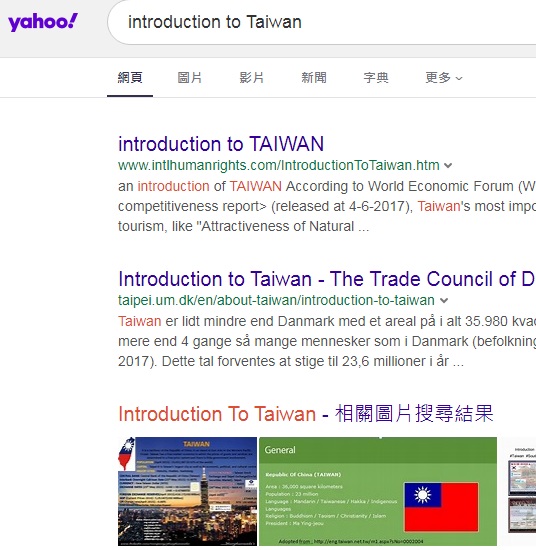 pic.: No.2 "introduction to Taiwan" on Yahoo, 2022-4-30, 2022-4-9, 2022-3-25, 2022-3-14, 2022-2-25, 2022-2-22; No.1 "introduction to Taiwan" on Yahoo, 2021-10-21, 2021-9-21, 2021-8-5, 2021-6-15, 2021-6-2, 2021-5-13, 2021-4-18, 3-3-2021, 1-29-2021, 12-6-2020, 11-29-2020, 11-11-2020, 10-25-2020, 8-5-2020, 7-6-2020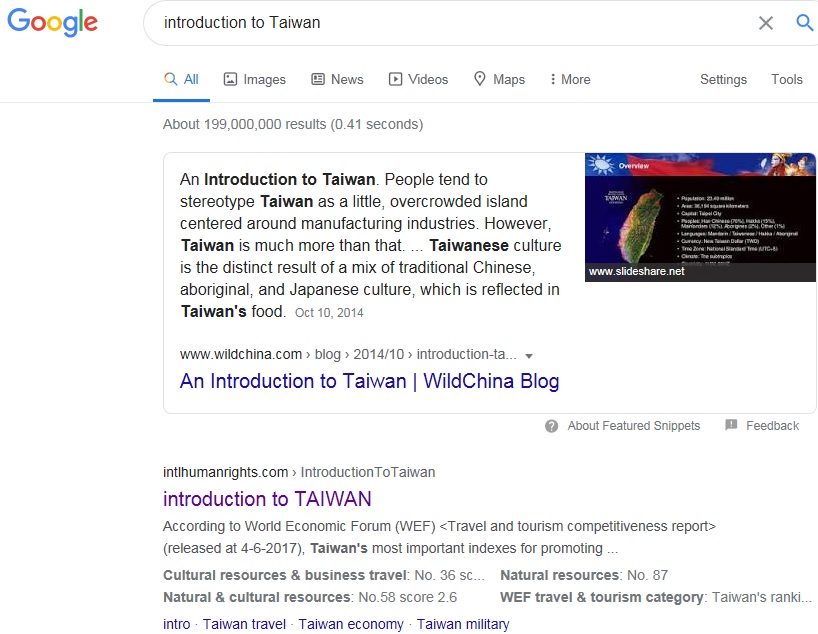 pic. No.1 "introduction to Taiwan" on Google, 4-19-2020; No.5 at 2022-5-14, among top ranks in 1st page, 2022-4-30, 2022-4-9, 2022-3-25, 2021-6-15
◆ Reuters, 2021-8-19: President Joe Biden appeared to suggest the United States would defend the island if it were attacked ◆ New York Times, 2021-8-4: "independence" or "unification." Most Taiwanese, however, fell somewhere in between. Xi declared China would "strive to achieve the Chinese dream of great rejuvenation of the Chinese nation. It would undo the hundred years of national humiliation China had been subjected to by foreign powers. "Hong Kong today, Taiwan tomorrow" had turned from a chant to a harbinger ◆ New York Times, 2021-7-13: Japan, while still wary of being drawn into the rivalry between the United States and China, ...as Washington and Beijing have ramped up both their rhetoric and military presence around Taiwan, Japanese white paper warned that China's rapid expansion of its military threatened to ... undermine peace in the region ◆ Washington Examiner, Yahoo, 2021-7-7: China's Taiwan ambitions could drag Japan and US into war with Asian power ◆ Reuters, CNN, 2021-7-13: Japan warns of crisis over Taiwan, growing risks from U.S.-China rivalry ◆ Nikkei Asia, 2021-7-7: Kurt Campbell: US does not support Taiwan independence ◆ CNN, 2021-7-5: As Beijing steps up its military propaganda and warns Taiwan to "prepare for war," experts say the bigger threat to the island and western democracies is the large-scale cyberattacks that could potentially paralyze physical infrastructure and business simultaneously ◆ Washington Post, 2021-7-2: 'Strategic ambiguity' is no longer a prudent U.S. policy on Taiwan ◆ Foxnews, 2021-7-1: China's Xi warns Taiwan on independence, sends message to West ◆ Washington Post, 2021-6-17: the world's top democracies were less vocal about the ever-increasing Chinese threats to Taiwan...Lawmakers increasingly believe, he said, that Beijing is moving toward compelling reunification, perhaps not through military invasion, but through various other coercive and covert means ◆ New York Times, 2021-6-16: how deeply entrenched the long-running conflict across the Taiwan Strait has become, with a degree of mutual distrust that not even a global medical emergency can allay ◆ Sunday Guardian (UK), 2021-6-19: Instead of invasion, China is trying soft power action, including cyber warfare, psychological warfare, media warfare by penetrating Taiwan to influence, mislead and divide the population ◆ Foreign Affairs, 2021-6-3: Washington would need to persuade a large coalition of allies to commit to a coordinated economic, political, and military response to any Chinese aggression. And that, unfortunately, remains a remote possibility ◆ New York Times, 2021-5-5: The more the United States and Taiwan formally close the door on reunification, the more likely Beijing is to seek reunification by force ◆ NBC, 2021-5-5:Taiwan fears quieter Chinese threat as U.S. warns of invasion ◆ Economist, 2021-5-1: Taiwan - The most dangerous place on Earth. America and China must work harder to avoid war over the future of Taiwan ◆ Le Monde (France), 2021-4-16: parmi leurs nombreux différends, la question taïwanaise est la plus sensible. C'est celle qui présente le plus grand risque de déboucher sur un conflit armé ◆ New York Times, 2021-4-9: "military conflicts often seem unlikely until the moment they begin", The Atlantic : a Chinese invasion "could happen at any moment" and that Biden should be prepared ◆ New York Times, 2021-4-8: the Biden administration might manage to deter China without provoking it through more forceful warnings that stop short of an explicit promise to defend Taiwan ◆ for full text, pls. click cyber-link

◆ Washington Post, 2021-3-26: Xi might be in favor of a risky push for reunification — especially if China continues to believe that a weakened America isn't ready to fight back ◆ NBC, 2021-3-27: A war over Taiwan remains a worst-case scenario that officials say is not imminent. China's growing firepower casts doubt on whether U.S. could defend Taiwan ; Taiwan needs lower-tech weapons (mines, drones and mobile anti-ship and anti-aircraft missiles) to fend off a potential Chinese invasion, and that big-ticket items like fighter jets and Patriot missiles (they've invested a lot of money in) are going to die in the first few hours of the war ◆ Forbes, 2021-3-26: Many observers believe the moment when the option "reunite"Taiwan by force is exercised is fast approaching ◆ Bloomberg, 3-21-2021: ... a very dangerous situation. The U.S. commitment to Taiwan has grown verbally stronger even as it has become militarily weaker... the reluctance of the Taiwanese themselves to treat their national security with the same seriousness that Israelis take the survival of their state ◆ Australian, 3-22-2021: Unfortunately for Taiwan, its future grows increasingly uncertain as Beijing's military expansionism continues unabated...