○
News brief ◆ Washington Examiner, 2023-6-1: the PLA has a strong prospect of defeating the U.S. over Taiwan even if the U.S. commits its full forces. Elbridge Colby : "If Taiwan is so blithe about its own defense, why should Americans stick their necks out? ◆ Economist, 2023-5-31: The next Taiwan president will take office with the island at the centre of a bubbling superpower showdown ◆ Washington Post, 2023-5-31: Taiwanese voters' choice is between a ruling party determined to maintain Taiwan's political independence, and an opposition that sees closer ties with China as the only viable path. ◆ Bloomberg, 2023-5-31: China could decide to launch a series of actions short of war — seizing one of Taiwan's small outlying islands, say, or interfering with Taiwanese shipping ... without provoking a US military response. ◆ The Christian Science Monitor, 2023-5-30: Taiwan's rep. in US: Taiwan is preparing to defend itself, and not just rely on other democracies to save the day. The challenges that the US is experiencing in the defense supply chain have certainly had an impact on Taiwan. ◆ Washington Post, 2023-5-29: Choosing Taiwan over Ukraine is frighteningly misguided. Yes, China is a greater military threat than present-day Russia. A turn toward Taiwan will most likely cause us to fail in both places. ◆ full text
Taiwan could soon be under US nuclear protection?

◆

Sky New

s (Australia), 2023-5-28

Analysts warn the 'nuclear umbrella'

agreement could be globally catastrophic as it would mean the US could use nuclear weapons if Taiwan was attacked.

skynews.com.au/world-news/united-states/taiwan-could-soon-be-under-us-nuclear-protection/video/732789a9ca7ee4de4c33a614a6a24c35

◆

SCMP

(Hong Kong), 2023-5-28

John Mearscheimer

(U. Chicago)

:It would send a clear message to Beijing that "if they are to attack Taiwan, it will escalate to the nuclear level"

。

Chang Yen-ting

:

"Taiwan's priority should be to get more advanced and effective weapons instead of seeking to be incorporated into the nuclear umbrella,"

a security analyst at the National Policy Foundation,

says

until today, the US has not entirely committed to using nuclear weapons to help defend South Korea in the event of a nuclear attack from North Korea."

msn.com/en-xl/news/other/us-nuclear-umbrella-for-taiwan-solid-cross-strait-shield-or-wishful-thinking/ar-AA1bMtGS
◆

EurAsian

Times, 2023-5-26

There has also not been any statement or reaction from either the Department of State, Department of Defense, or the White House on the statement from Joseph Wu. This implies the US has no plans to defend Taiwan using nuclear weapons.

eurasiantimes.com/taiwan-eyes-us-nuclear-umbrella-to-deter-chinese-invasion/

Parth

Satam

◆

Benzinga

, 2023-5-2

9

X

i Jinping 'Unlikely' To Go Nuclear On Taiwan Amid Taipei's Bid For US Umbrella: Defense Experts

,

given the radiation spillover problem and the proximity of Taiwan to the Chinese mainland,"

◆ Fortune, 2023-5-21: Warren Buffett told Japan's Nikkei that the threat of war was a "consideration" in dumping the bulk of the stake in TSMC. Musk told the Financial Times that a conflict over Taiwan is inevitable. His comments did not go over well in Taiwan ◆ The Guardian, 2023-5-22: over 90% of the world's semiconductors are made in the place many US officials think could be the site of the next global conflict: Taiwan. ◆ Space News, 2023-5-22: Just the threat of an attack on GPS could be enough to deter America from defending Taiwan, according to some analysts. Loss of GPS would result in a profound degradation of America's military strike capabilities and severe economic and societal disruption to the U.S. homeland. ◆ New York Times, 2023-5-17: As China looms over Taiwan's Presidential race, the opposition picks a moderate Hou Yu-ih, trying to appeal to voters wary of Beijing ◆ Financial Times, 2023-5-15: even if the US had a broader plan to thwart Chinese economic growth, any such efforts would probably be unsuccessful. Xi should understand that global political power flows from economic power. China does not need to win a shooting war to expand its international power and influence. ◆ Washington Post, 2023-5-12: Taiwan's low defense spending is often explained by Taiwanese voters' expectations of U.S. protection. Others might calculate that the stakes of China's threats are not as high as the United States says, and that their lives might be able to continue mostly as normal even if Beijing did alter the cross-strait status quo ◆Washington Post, 2023-5-10: A war involving Taiwan would depend more on the U.S. Navy and Air Force, as well as hybrid warfare tools that are used in information and cyber operations.◆ Foreign Policy in Focus, 2023-5-10: Unlike Russia, China seems unwilling to sacrifice the country's economic well-being on the pyre of nationalism ◆ 19FortyFive, 2023-5-10: By stacking their heaviest punches upfront, Beijing thinks that they can render the Americans so dazed and confused — inflicting so much damage at the outset of a fight — that Washington will stand down and abandon Taiwan ◆ Washington Times, 2023-5-9: Taipei unnerved by investor fears, apocalyptic rhetoric, Taiwanese officials are trying to tone down alarmist comments made by U.S. investment gurus and policymakers about the risks of a clash with China, "the fearmongering talk coming out of Washington isn't helping" ◆Business Insider, 2023-5-3: In first-of-its-kind drill, US Army special operators train to defend Taiwan against Chinese attack, while the "ultimate backstop" remains America's nuclear capabilities, according to the Pentagon's National Defense Strategy ◆ Daily Express, UK, 2023-5-3: WW3 fears as Taiwan issues a threatening statement about how it intends to handle imminent China invasion ◆ le Monde, 2023-4-30: China's military exercises in the Taiwan Strait are a reminder of how fragile the island's status quo is ◆ Brookings, 2023-4-17: the Taiwan voters are deeply pragmatic. a significant majority of the Taiwan voters are in the middle ◆ The Register, 2023-4-22: Taiwan asks US if it could chill out on the anti-China rhetoric "We're trying to run a chip business here" ◆ New York Times, 2023-4-18: Fear of China is pitting Taiwan's people against each other ◆ Brookings, 2023-4-15: While Taiwan clearly is under growing military threat, it also is facing a simultaneous and intensifying Chinese political campaign to wear down the will of the Taiwan people. ◆ New York Times, 2023-4-14: China's Communist Party is now convinced that America wants to bring it down, which some U.S. politicians are actually no longer shy about suggesting. ◆ The Guardian, 2023-4-14: German foreign minister warns of 'horror scenario' in Taiwan strait ◆ Nikkei Asia, 2023-4-7: Taiwan's choice: peace or war, ex-president says after China trip ◆ FoxNews, 2023-4-6: Taiwan residents are in apparent agreement in believing the U.S. will not come to their aid ◆ Newsweek, 2023-3-31: "Tsai's visit to the U.S. can be seen as a face-saving way for the U.S. to avoid another Pelosi-like fiasco from which it is still paying a price in global standing," " At the same time, Ma's visit to China shows there is strong desire on both sides of the Taiwan Straits for a peaceful solution." ◆ Bloomberg, 2023-3-31: Washington's planned subsidies to "hollowing out" its world-beating chip industry, or that US defense strategists hope to provoke a war over Taiwan to ... cripple the People's Liberation Army — have gained noticeable traction ◆ full text
Associated Press, 2023-5-2: Unclear who would help Taiwan in a war: Taiwan foreign minister

Japan

S. Korea

Asahi News, 2023-5-1:

Asahi poll:

80%

of voters said they are worried that Japan would be caught up in the armed conflict if the United States and China clashed over Taiwan, 56% want only SDF rear support to U.S. in event of Taiwan crisis

.

Which

approaches

to

prioritize for its national security

?

70%

selected "deepening the relationship with China," far more than the 26

%

who chose "strengthening defense capabilities."


Responsible Statecraft, 2023-5-2: It is naïve, however, to expect Japan to automatically fight China if the United States intervened militarily. If Japan were to assume a neutral stance, China might be encouraged to use military force to realize its aim to bring Taiwan under its control. Recent war games conducted by the CSIS suggests that the United States would lose a conflict over Taiwan if it were unable to access bases in Japan.

 

 

T

he Diplomat, 2023-3-21:

South Korea Will Stay Out of a Taiwan Strait War

,

Seoul's desire to limit the damage in its relations with Beijing is strong enough that strikes on South Korean territory that killed only Americans would not necessarily bring South Korea into the war as a combatant against China.。
South Korea would limit its support to actions near the low end of the spectrum – strong diplomatic statements, symbolic economic sanctions, and behind-the-lines re-supply of U.S. forces returning from battle

.

 

Axios, 2023-5-2: South Korea would be unlikely to consider sending troops into the Taiwan Strait. But the U.S. could pull some of its own 30,000-strong contingent out of Korea, and would likely expect Seoul to play a key support role. That could leave Seoul exposed to retaliation from China, and more vulnerable to North Korea

 

asahi.com/ajw/articles/14898395

responsiblestatecraft.org/2023/05/02/should-japan-defend-taiwan/ k. sugawa

thediplomat.com/2023/03/south-korea-will-stay-out-of-a-taiwan-strait-war/

axios.com/2023/05/02/taiwan-war-us-philippines-japan-korea-australia d. lawler, b. a. ebrahimian
◆ Taiwan is losing its friends. Economist (2023-3-28) :With China's wallet growing ever larger, Taiwan may instead need to hope that historical ties help to sustain the loyalty of its few remaining diplomatic partners ◆ AFP (2023-3-28): Latin America has been crucial to the diplomatic struggle between Beijing and Taipei since they separated in 1949, after the Chinese civil war....the decision by Honduras was a blow to Washington ◆ Foreign Affairs, 2023-3-21: J. Chen Weiss: Alarm Over a Chinese Invasion Could Become a Self-Fulfilling Prophecy. ◆ full text
According to CNN, 2023-3-28, and 2023's "
Asia

'

s 50 Best Restaurants
, Taiwan ranks No. 9 among Asia's countries, Taipei ranks No. 17 among Asia's cities, Taipei's Mume restaurant ranks No. 45 in top 50 restaurants, the number of Taiwan's restaurants entering top 50 is the least in recent 10 years. Taipei's Logy ranks No. 57, but its chef is a Japanese. Tapei's Adachi Sushi ranks No. 87, Kaohsiung's Liberte ranks No. 96.
Asia's 50 Best Restaurants 2023
theworlds50best.com/asia/en/list/1-50

rank

countries with the most wins

number of restaurants selected

rank

cities with the most wins

number of restaurants selected
1
China (Hong Kong 5, Shanghai 2, ShenZhen 1, Macau 2, Beijing 1)
11
1

Bangkok (Thailand )

9
2
Japan (Tokyo 7, Osaka 1,

Wakayama 1, Kyoto 1

)
10
2

Singapore

9
3
Thailand (Bangkok 9)
9
3
Tokyo (Japan)
7
4
Singapore
7
4
Hong Kong (China)
5
5
S. Korea
4
5
Seoul (S. Korea)
4
6
India
3
6
Shanghai (China)
2
7
Philippines
2
7
Macau (China)
2
8
Vietnam
1
8
Manila (Philippines)
2
9
Taiwan
1
9
Osaka (Japan)
1

♣ No.1 Le Du (Thai.), No.2 Sezanne (Japan), No.3 Nusara (Thai.), 4. Den (Japan), 5 Gaggan Anans (Thai.)...No. 45 Mume (Taiwan Taipei)

 

♣ Bangkok has long been considered a world capital when it comes to street food. But these days, its fine dining scene is proving to be just as alluring. Though most of the winners on the list are fine dining restaurants, one street food eatery managed to break through the pack – Bangkok's Michelin-starred Raan Jay Fai

10
Wakayama (Japan)
1
11
Mumbai (India)
1
12
New Delhi (India)
1
13
Chennai (India)
1
14
ShenZhen (China)
1
15
Kyoto (Japan)
1
16
Ho Chi Minh (Vietnam)
1
17
Taipei (Taiwan)
1
18
Beijing (Chn)
1
◆ Newsweek, 2023-3-20: The combination of political warfare, gray-zone actions, and the potential for kinetic warfare come together most clearly around Taiwan, which offers the most immediate prospect of China going on a major kinetic offensive.◆ Foreign Policy Research Institute, 2023-3-9: Taiwan's "porcupine strategy" calls for Taiwan to arm itself with thousands of mobile anti-ship and anti-air weapons, sea mines, drone strike systems, and other smaller, mobile systems. While it still struggles with two challenges: a continued preference for big-ticket defense systems, and US delays in delivering weapons ◆ Economist, 2023-3-6: The KMT has been unable to articulate a new cross-strait strategy beyond continuing dialogue with the Chinese Communist Party. the DPP has also been hesitant about telling voters to prepare for war. The DPP has already softened its messaging, from Ms Tsai's slogan of "Resist China and protect Taiwan", to the more pacific "Peacefully protect Taiwan". ◆ VOA Asia Weekly, 2023-3-9: Taiwan's so-called "silicon shield" semiconductor is building its second US facility in Arizona, But Taiwanese officials worry that U.S. national security may come at a cost to their own. ◆ Economist, 2023-3-6: Taiwan needs to prioritise becoming a porcupine, but they continue to build big ships and to buy better planes partly as a public-relations exercise. Politicians like to point to arms sales as evidence of American support. Better weapons boost morale. ◆ full text
Honduras ditching Taiwan raises larger geopolitical concerns

AP, Washington Post, The Hill, 2023-3-15

thehill.com/homenews/ap/ap-international/honduras-ditching-taiwan-raises-larger-geopolitical-concerns/

...

a blow to the Biden administration, which has rather fruitlessly tried to convince countries in the region to stick with Taiwan. Taiwan, a U.S. ally,

...

also exemplifies the American government is "losing it's grasp on" Latin America

L.A. Times, 2023-3-15

The switch would leave Taiwan recognized by only 13 countries as China spends billions to win

recognition of its "one China" policy

.

msn.com/en-us/news/world/honduras-to-seek-official-ties-with-china-spurning-its-long-relationship-with-taiwan/ar-AA18EeCH

Bloomberg, 2023-3-15

Tsai Ing-wen has worked to raise the self-governing island's profile on the world stage during her tenure. Tsai says Taiwan deserves broader recognition and greater support given its status as a democracy.

msn.com/en-us/news/world/taiwan-may-lose-official-ally-as-honduras-mulls-china-switch/ar-AA18Du8h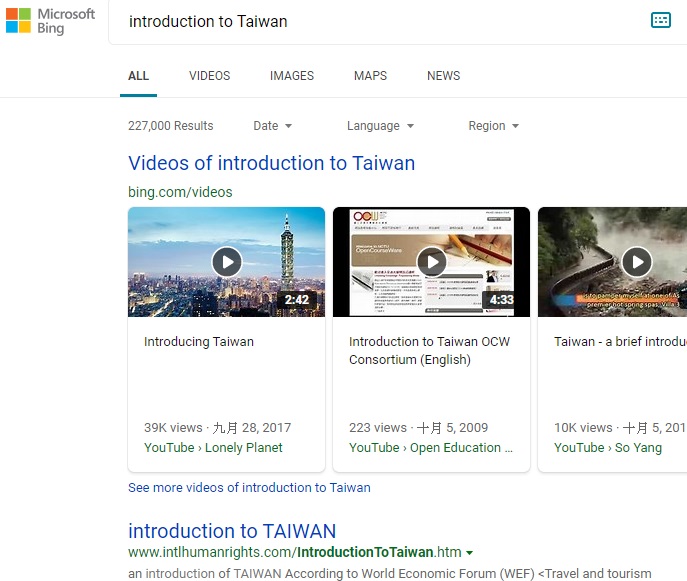 pic. : No.1 "introduction to Taiwan" on Bing at 2023-5-31, 2023-4-30, 2023-3-31, 2023-3-23, 2023-3-4, 2023-2-1, 2023-1-22, 2023-1-15, 2023-1-1, 2022-12-17, 2022-6-24, 2022-5-14, 2022-4-30, 2021-11-21, 2021-10-21, 2021-9-21, 2021-8-5, 2021-6-15, 2021-6-2, 2021-5-13, 2021-4-18, 3-3-2021, 1-29-2021, 01-01-2021, 12-6-2020, 11-29-2020, 11-11-2020, 10-25-2020, 8-5-2020, 8-2-2020, 7-6-2020, 6-21-2020, 6-11-2020, 6-5-2020, 5-21-2020, 5-12-2020, 5-8-2020, 4-20-2020, 4-10-2020, 3-20-2020, 2-24-2020,1-27-2020, 1-15-2020, 12-25-2019, 12-16-2019,11-6-2019, 10-6-2019, 9-17-2019, 8-3-2019, 7-29-2019, 6-27-2019, 4-29-2019; This websites group was ranked No.2 "introduction to Taiwan" on Bing, 2022-10-4, 2022-4-9, 2022-3-25, 2022-3-14, 2022-2-22, 2021-12-4 No.3 at 2022-10-23, 2022-9-5;
No.1 "introduction to Taiwan" on Lycos, 2023-1-15, 2023-1-1

pic. : This websites group was ranked No.1 by keyword "introduction to Taiwan"
on Yandex of Russia (largest engine in Russia) at 2023-5-31, 2023-4-30, 2023-3-31, 2022-9-5, 2022-8-21, 2022-8-8, No.4 "introduction to Taiwan" at 2023-3-23, 2023-3-4; No.1 at 2022-7-31, 2022-7-7, 2022-7-1, 2022-6-24, 2022-6-15, 2022-6-12, 2022-5-26, 2022-5-14, 2022-4-30, 2022-3-14, 2021-12-27, 2021-12-4, 2021-11-21, 2021-10-21; No.2 at 2022-4-9, 2022-2-25; among top ranks at 2022-12-12; No.3 "introduction of Taiwan" at 2022-12-17
◆ J Post, 2023-3-8: we must be wary of China's impatience, which fears undermining its credibility and exposing its national prestige to constant insults and provocations that could put it in a position where it would quickly opt for a military reconquest of Taiwan ◆ FoxNews, 2023-3-7: Why does the U.S. keep on professing the maintenance of regional peace and stability while covertly formulating a plan for the destruction of Taiwan?" Chinese foreign minister Qin asked. ◆ Reuters, 2023-3-5: Chinese Premier Li Keqiang pledged "peaceful reunification" with Taiwan...Taiwan holds presidential and parliamentary elections in early 2024 and tensions with China are likely to dominate campaigning ◆ USNI, 2023-3-2: Undersecretary of Defense for Policy Colin Kahl testified before the House Armed Services Committee that he does not think China will attempt to invade Taiwan before 2027. ◆ Responsible Statecraft, 2023-2-28: The Washington Post: "In the current atmosphere of intense distrust, verbal assurances have to be accompanied by coordinated, reciprocal actions to reduce the risk of a catastrophic crisis." ◆ Washington Post, ABC news, 2023-2-27: CIA chief: Xi Jinping has instructed his country's military to "be ready by 2027" to invade Taiwan; China has some doubt on ability to invade Taiwan ◆ New York Times, 2023-2-27: the Chinese are prepared to wage a much broader type of warfare that would reach deep into American society. The U.S. economy is heavily dependent on Chinese resources and manufactured goods ◆ EurAsian Times, 2023-2-26: "No Boots On Ground': Majority Of US Voters' Chicken Out' From Sending Soldiers To Taiwan To Battle China ◆ Asia Society Policy Institute, Feb. 2023: evidence from the Chinese Communist Party (CCP) Congress in 2022 augurs against an invasion or all-out blockade in the short term. PRC might seizure of one or more of the islands currently controlled by the ROC. ◆ Japan Times, 2023-2-24: Japan will, at best, be a (possibly reluctant) follower of a U.S.-led coalition to defend Taiwan...In case Chinese President Xi Jinping attempts to annex Taiwan, the stakes of confronting Beijing will be much higher for Japan and other U.S. partners than facing Moscow is for Europeans. ◆ New York Times, 2023-2-22: Gallagher argued that Taiwan could not be expected to build defense formidable enough to deter Beijing...without the US making good on a backlog of purchase order ◆ WSJ, Fox News, 2023-2-23: The U.S. is preparing to send 100 to 200 troops to Taiwan for training amid rising tensions with China; The Wall Street Journal described the planned troop increase in the coming months as the largest deployment of American forces in Taiwan in decades. ◆ Washington Examiner, 2023-2-23: Taiwan views Russia's war in Ukraine as a fate that could await it if it doesn't take the proper steps needed to defend its democratic island nation from a potential Chinese invasion.◆ TIME, 2023-2-23: Winning the tech war with China depended entirely upon persuading U.S. allies—particularly Taiwan, the Netherlands, and Japan—to follow the U.S. lead and adopt similar export control regulations ◆ full text
◆ Aljazeera, 2023-2-23: CIA Director William Burns recently said although Xi was likely "unsettled" by Russia's failures in Ukraine, he had still told China's military to be ready to invade Taiwan by 2027. ◆ Economist, 2023-2-18: China still relies on Russia for certain crucial military components, which makes the friendship central to any plans China might have to invade Taiwan (CBS 2023-2-19: China considering providing "lethal support" to aid Russian invasion of Ukraine, Blinken says) ◆ Japan Times, 2023-2-19: There is no evidence that China is in a hurry to attack Taiwan, despite a number of U.S. government and military officials citing 2027 or even 2025 as a potential deadline for forcible unification ◆ Daily Express, 2023-2-17: A "proxy war" between China and the US over Taiwan could happen during the Biden presidency ◆ Washington Examiner, 2023-2-17: New House Foreign Affairs Committee Chairman: Ukraine is capable of fighting on their own if we give them the weapons. Taiwan cannot fight this war alone, even if we gave them the weapons. ◆ Washington Post, 2023-2-3: (China's) state-run People's Daily said the United States must drop its "obsession" with containing China. ◆ Washington Post, 2023-2-2: Japan must do more, and faster, to avert war over Taiwan...Crudely, Japan seems to be prepared to push back against only Chinese assets that are clearly poised to attack its sovereign territory. ◆ US Naval Institute, 2023-2-1: The US and Taiwan should plan a defense strategy centered on defeating China in an urban war; it is possible that using the geography of the island and its urban citadels is the best hope of success in the face of PLA overmatch ◆ Forbes, 2023-2-2: The United States Could Defend Taiwan—At The Cost Of A Lot Of Submarines ◆ Forbes, 2023-1-31: China's lack of capacity for amphibious assault as evidence that it will not be ready for war so quickly. China's use of civilian ferries in military exercises makes it difficult to predict when, and if, China will invade Taiwan. ◆ Wall Street Journal, 2023-1-26: Will the U.S. Really Defend Taiwan? Washington is strategically unprepared for a crisis and Biden's policies are hampering deterrence ◆ USA Today, 2023-1-20: Taiwan's envoy to the US says her island has learned lessons from Ukraine's war that will help it deter, defend against an attack by China. Among the lessons: preparing for the kind of all-of-society fight Ukrainians are waging against Russia ◆ Bloomberg, 2023-1-21: A more effective structure would de-emphasize vulnerable combat aircraft and surface ships and emphasize instead land-based anti-air and anti-ship capabilities. This is what some commentators have called the "porcupine strategy" ◆ War On The Rocks, 2023-1-20: Training, Not Arms Sales, Should Be the New Priority ◆ WSJ, 2023-1-19: The Heritage Foundation's latest 'Index of U.S. Military Strength' warns of declining power in the U.S. Navy and Air Force. Taiwan is ramping up its spending on defense but its conscription and readiness are underwhelming. ◆ Economist, 2023-1-19: TSMC is playing a subtle game of diplomacy in which its business interests come first ◆ full text
World's Best Hospitals 2023
by Newsweek & Statista
comparison among Asia's selected 12 countries
newsweek.com/rankings/worlds-best-hospitals-2023

Asia's rank

country

total number of top 250 hospitals

1

Japan

18

2

S. Korea

18

3

Australia

7

4

Singapore

5

5

Israel

3

6

India

3

7

Thailand

1

8

UAE

1

9

Taiwan

1

10

Saudi Arabia, Malaysia, Indonesia

0

Taiwan's NTU Hospital ranks world No. 249
Asia's China, etc are not included in survey list - 28 countries in total
Why is Taiwan behind ?

(1) Taiwan got highest CovID death rate in Asia and entire world several times.

/ "

Medicine should be prescribed but not prescribed, medicine should be taken but not taken

"

bad record of

"failure to administer

CovID remedy/medicine

in time"

.