| | | |
| --- | --- | --- |
| Taiwan | Taiwan Economy | economically, Taiwan is dependent on Beijing. tech. & science rely on the US |
● TIME, 2023-11-20: Taiwan is the world's 16th-largest trading economy, exchanging $907 billion in goods and services in 2022. It produces 90% of the world's advanced semiconductor chips, which are vital for every industry but especially to the artificial intelligence boom. Growth in Taiwan for 2023 is projected to be 1.61%—its slowest pace in eight years. Beijing only has to lift a ban on Chinese tourists to boost Taiwan's GDP by over 1%, according to Capital Economics.

● At the end of 2022, Taiwan's per capita GDP amounted to $32,756 while Singapore's was $82,808, Japan and South Korea were at $33,815 and $32,255, respectively, according to the World Bank.
● According to Credit Suisse, Research Institute (2023), Taiwanese' "Median wealth per adult", USD 108,250, is higher than Americans' USD107,740 (ubs.com/global/en/family-office-uhnw/reports/global-wealth-report-2023.html)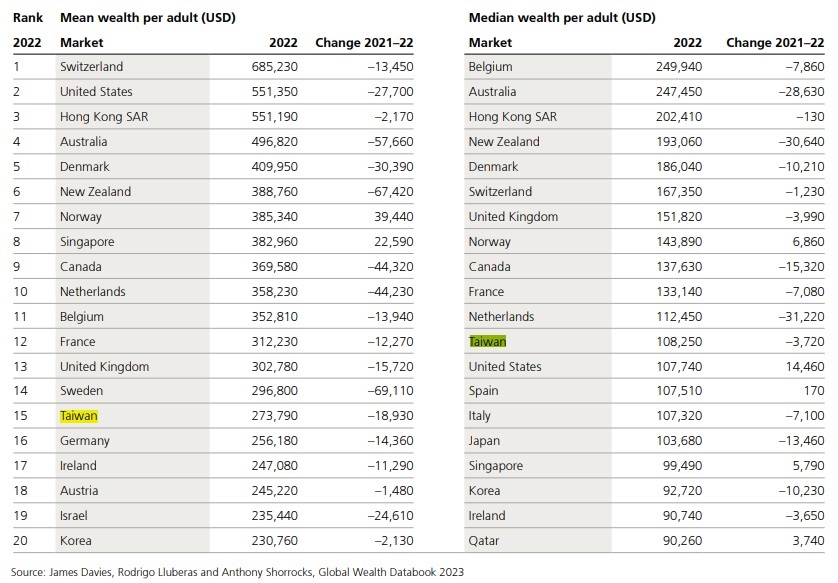 tbl.: Median wealth per adult (USD), Mean wealth per adult, Credit Suisse, Research Institute (2023)
 

● WSWS.org, 2023-11-29: low economic growth rates, rising unemployment and social distress will also have a marked impact (on presidential election). Taiwan entered recession in the first quarter of 2023 as GDP contracted by 3.02 percent compared to the same period last year. The economy is expected to grow by just 1.61 percent for the year. Real estate speculation is fuelling a growing housing crisis. While official unemployment figures remain relatively low overall, youth unemployment for those between 20 and 24 is more than 11 percent. wsws.org/en/articles/2023/11/29/cjie-n29.html Peter Symonds
● ResponsibleStateCraft.org, 2023-7-3: Taiwan's total trade increased to $907 billion in 2022 from $508.4 billion in 2016. While 39 percent of Taiwanese exports went to China and Hong Kong last year, the value of Taipei's exports to the United States jumped to $74.9 billion — $45 billion more than in 2016. responsiblestatecraft.org/2023/07/03/taiwan-boosts-economic-diplomacy-despite-chinese-pressure/
● Forbes, 2023-5-8: Like The United States, Taiwan Is making efforts to de-couple its economy from China's. It is Taiwanese business that is taking the lead, Taiwanese direct investment into China has plummeted some 81% from the equivalent of $9.0 billion in 2017 to under $1.7 billion last year. forbes.com/sites/miltonezrati/2023/05/08/like-the-united-states-taiwan-is-de-coupling-from-china/?sh=2b537deb62c0
● Brookings, 2023-4-17: Taiwan is the 21st largest economy in the world and the eighth largest trading partner of the United States. China accounts for around 23% of Taiwan's overall trade, whereas the United States is around 13%. brookings.edu/podcast-episode/how-serious-is-the-risk-of-war-over-taiwan/ Richard C Bush Ryan Hass David Dollar
● Denmark's Democracy Perception Index 2023: Government Priorities should be promote economic growth ? - Taiwan ranks world No. 5 (Indonesia, Iran, Venezuela, Malaysia, Taiwan, Ukraine, Kenya, Peru, Argentina, Algeria) ; Government Priorities should be reduce income inequality? Taiwan ranks No.1 (40%), Japan, france, Singapore, S Korea, China 6389062.fs1.hubspotusercontent-na1.net/hubfs/6389062/Canva%20images/Democracy%20Perception%20Index%202023.pdf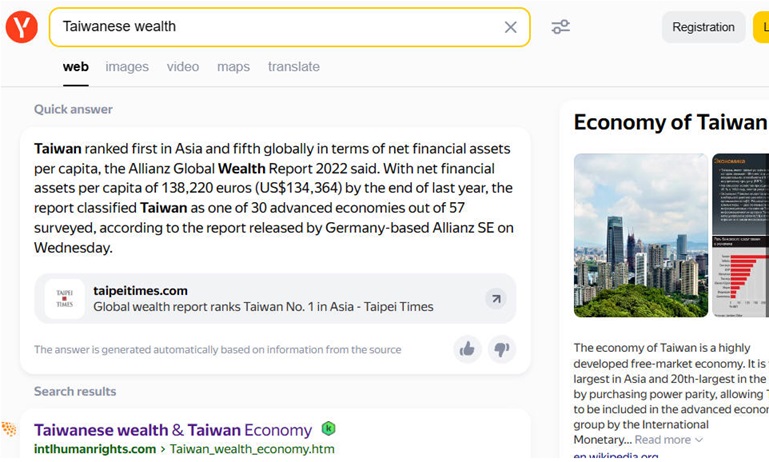 No.1 "Taiwanese wealth" on Yandex, 2023-11-21
● Washington Post, 2022-10-21: 42 percent of Taiwan's exports — and 60 percent of its chip exports — go to China. Taiwan, a major producer of semiconductors, says it will abide by U.S. rules msn.com/en-us/news/politics/taiwan-a-major-producer-of-semiconductors-says-it-will-abide-by-us-rules/ar-AA13dM8W
● Global Times, 2023-2-4: The latest Taiwan economic data is chilling. The economic growth rate in the fourth quarter of 2022 was -0.86 percent. The electronics and communications industry, always a pillar for Taiwan's exports, is facing particularly severe challenges. The sharp reduction in overseas orders has directly led to the rare scenario of negative growth in Taiwan's exports. In December 2022, Taiwan's Manufacturing Purchasing Managers' Index (PMI) fell by 0.2 percentage points to only 43.7 percent. It has been in a state of contraction for six consecutive months, showing that Taiwan's manufacturing industry is struggling. At the same time, deep-seated contradictions in Taiwan's economy are emerging one after another. The industrial structure tends to become rigid due to long-term and severe unevenness, the high-tech industry has too little coverage in terms of employment, and the traditional manufacturing and service industries have a large number of employees but are continuing to decline. This has caused long-term wage stagnation for ordinary workers on the island. In 2022, due to high imported inflation and the CPI reaching nearly 3 percent, the actual wages of workers in Taiwan experienced negative growth for the second year in a row, and the gap between rich and poor is widening. Dissatisfaction among the middle and lower class and youth groups on the island is gradually rising globaltimes.cn/page/202302/1284807.shtml
● Global Times, 2022-12-9: the volume of cross-Straits trade was only $46 million in 1978. It rose to $328.34 billion in 2021. The mainland has been Taiwan's largest export market for the last 21 years, generating a large annual surplus for the island. The mainland is also the largest destination for Taiwan's off-island investment. By the end of 2021, Taiwan businesses had invested a total of $71.34 billion in the mainland. globaltimes.cn/page/202212/1281532.shtml
● Bloomberg, Finance Yahoo, 2022-9-5: The Taiwan dollar's fortunes look set to take a turn for the worse as slowing export growth (Chip Downturn) and a resurgent greenback weigh on the currency. Equity outflows and tensions in the Taiwan Strait are also ...finance.yahoo.com/news/chip-downturn-fuel-more-taiwan-000000880.html?fr=sycsrp_catchall
● Australian Institute of International Affairs 2022-12-23: Taiwan faces two great and interrelated economic challenges. First, its lack of official recognition by the vast majority of states puts obstacles in the way of the island's economic empowerment. Second, Taiwan's economy is heavily reliant on the mainland. internationalaffairs.org.au/australianoutlook/bargaining-chips-taiwans-economy-may-be-its-best-defence/
● Finance Yahoo, 2022-8-13: 92% of the most advanced semiconductors are made by TSMC in Taiwan, If Taiwanese semiconductor supply were disrupted for a prolonged period, electronics and automotive manufacturers would struggle to find alternative suppliers. This would lead to many firms having to halt production. finance.yahoo.com/news/taiwan-world-economy-economist-explains-123545383.html
Credit Suisse Global Wealth Databook 2022

Median wealth per adult (USD)

world rank

country
2021
change 2021
1
Australia
273,900
28,450
2
Belgium
267,890
-3,730
3
NZ
231,260
57,920
4
Hong Kong
202,380
8,250
5
Denmark
171,170
10,790
6
Swiss
168,080
14,170
7
Canada
151,250
16,240
8
Nederland
142,990
-600
9
UK
141,550
9,610
10
France
139,170
-3,670
11
Norway
132,480
-1,620
12
Japan
120,000
-8,740
13
Taiwan
113,940
18,050
14
Italy
112,140
-10,100
15
Spain
104,160
-640
16
Qatar
100,010
20,160
17
Sweden
95,050
-100
18
US
93,270
13,840
19
S. Korea
93,140
1,910
20
Singapore
93,130
2,980
● Washington Examiner, 2022-8-26: China and Taiwan did $166 billion in trade with each other in 2020. Taiwan is one of the largest investors in China, at almost $200 billion since 1991. washingtonexaminer.com/opinion/op-eds/seventy-year-lie-china-has-never-had-a-serious-claim-to-taiwan
● Brookings, New York Times, 2022-7-26: Any further downturn in China's economy would have an outsized effect on Taiwan, whose exports to China hit a record. nytimes.com/2022/07/26/business/dealbook/chinese-aggression-taiwan.html ● L.A. Times, 2022-7-29:The country's economy relies on China, its largest trading partner.

● Brookings, 2022-7-13: The European Union is Taiwan's largest foreign investor. More than 25% of the island's foreign direct investments came from EU countries in 2020 and 15 of 27 EU member states have representative offices in Taipei. The volume of bilateral trade has risen to more than 68 billion dollars in 2021. While this is much less trade than with China... brookings.edu/blog/order-from-chaos/2022/07/13/how-covid-19-and-the-war-in-ukraine-could-change-eu-taiwan-relations
● New York Times, 2022-6-22: To Pressure Taiwan, China Flexes Economic Muscle / China abruptly banned all imports of grouper from the island, in an apparent attempt at turning the economic screws on Taiwan...has also increasingly sought to restrict the island's access to China's vast consumer market, banning Taiwanese pineapples, then wax apples, last year after it said the fruits brought in pests. nytimes.com/2022/06/22/business/china-taiwan-grouper-ban.html
 

 



 

pic.: top ranking "Taiwanese wealth" on US Bing at 2023-4-22, 2023-1-24, 2022-8-28

pic.: No.1 "Taiwanese wealth" on US Yahoo at 2022-1-28; No.2 "Taiwanese wealth" on US Yahoo at 2022-4-11; No.2 "Taiwanese wealth" on Microsoft Bing , at 2022-4-11
● allianz Global Wealth Report 2021 , Oct.12, 2022

allianz.com/content/dam/onemarketing/azcom/Allianz_com/economic-research/publications/specials/en/2022/october/12-10-2022-GlobalWealthReport.pdf

Net financial assets by country

world rank

Main countries
in Asia
GDP

EUR per capita

Net financial assets
EUR per capita
1
USA
60,010
259,780
2
Singapore
58,560
134,150
3
Australia
53,580
99,400
4
NZ
41,090
132,170
5
Japan
33,210
102,720
6
Taiwan
29,470
138,220
7
S. Korea
29,360
38,230
8
China
10,890
15,400
With net financial assets per capita of 138,220 euros (US$134,364) by the end of last year, Taiwan ranked first in Asia and fifth globally in terms of net financial assets per capita. The US, Switzerland, Denmark and Sweden were the only countries that had higher financial assets per capita than Taiwan, at 259,780 euros, 237,110 euros, 183,610 euros and 146,510 euros respectively. In terms of gross financial assets per capita, Taiwan ranked ninth in the world with 164,610 euros, after Switzerland, the US, Denmark, Sweden, the Netherlands, Canada, Singapore and Australia. taipeitimes.com/News/front/archives/2022/10/17/2003787174
● NDTV, 2022-8-4: In the first half of 2022, Taiwan's exports amounted to $246.7 billion, while imports totalled $219.0 billion. The trade surplus stood at $27.7 billion. China is the biggest trading partner of Taiwan. Exports to Mainland China are 40 per cent of total exports. Electronic products comprise well over half of Taiwan's trade. Taiwan's economy is dominated by the services sector ndtv.com/business/6-facts-about-economy-of-taiwan-latest-us-china-flashpoint-3223565
● The Tribune, 2022-9-25: The mainland is now Taiwan's largest trading partner, and Taiwan the mainland's eighth largest trading partner and third largest source of imports.
● Bloomberg, 2022-8-6: China is Taiwan's largest trading partner, with bilateral trade rising 26% on year to $328.3 billion in 2021. finance.yahoo.com/news/taiwan-says-china-simulating-attack-035002189.html?fr=sycsrp_catchall
●Julius Baer Group's Global Wealth and Lifestyle Report 2022 (2022-6-15)
The rankings are done after analyzing the cost of residential property, cars, airfare, business school and other luxuries.
nBloomberg: These are the world's most expensive cities to live in if you're rich
nFinancial Review: If you like luxury, these are the world's most expensive cities

1
Shanghai, China

with four items ranked at the very top and the highest weighted-average price increase (30%).

2
London
 
3
Taipei, Taiwan

moved up the ranking, mostly due to the prices of shoes, bicycles, and wine.

4
Hong Kong
 
5
Singapore
 
6
Monaco
 
7
Zurich, Swiss
 
8
Tokyo, Japan

is the city which slid the furthest (previously 2

nd

), driven by 13 items ranking lower than in the previous year and an average depreciation of -8.8% on the Japanese yen.

9
Sydney, Australia
 
10
Paris, France
 
11.

New York

12.

Sao Paolo

13.

Milan

14.

Dubai

15.

Bangkok

juliusbaer.com/sg/en/news/julius-baer-publishes-global-wealth-and-lifestyle-report-2022/#:~:text=Shanghai%20is%20still%20the%20most,average%20price%20increase%20(30%25).
● aljazeera, 2022-7-1: Taiwan's benchmark index has slid 21 percent since January, making it Asia's worst performing stock market. aljazeera.com/economy/2022/7/1/taiwan-deputy-fin-min-urges-investors-to-stay-calm-as-market-fall
● VOA News, 2022-4-1: At $913 a month, Taiwan's minimum wage is considered extremely low for an advanced economy, Taiwan has just generally struggled with this culture of a really weak wage environment. Survey: More than 20% of Taiwanese under the age of 40 say they lack savings and 65% report they are in debt, only one-third of respondents said their income exceeds their expenses,... Some 41.8% of respondents said their debt was high enough that they felt economic pressure. voanews.com/a/survey-shows-young-taiwanese-lack-savings-are-highly-indebted-/6510937.html
● Forbes, 2022-5-15: Taiwan is home to the world's 22nd largest economy, and is a leading source of electronics products. Taiwan businesses that rank on the 2022 Forbes Global 2000 list of the world's top publicly traded companies out this month include Hon Hai Precision — the big supplier to Apple led by billionaire Terry Gou, and Taiwan Semiconductor Manufacturing Corp., or TSMC, which makes computer chips for Intel. forbes.com/sites/russellflannery/2022/05/15/taiwan-covid-cases-hit-a-daily-record-68732-computex-tech-fair-affirms-in-person-return/?sh=ceeeb60e9714
● The China Times, 2022-6-27, editorial: According to China's statistics, in last year, Taiwan's total exports to the mainland reached nearly US$250 billion, and its trade surplus with the mainland exceeded US$170 billion, an increase of US$31.1 billion from trade surplus in 2000. According to Taiwan's data, the export value to mainland China and Hong Kong also reached US$188.9 billion last year, an annual increase of 24.8%, the trade surplus was US$104.7 billion... chinatimes.com/opinion/20220626003025-262101?chdtv (大陸海關總署統計,去年台灣對大陸出口總額高達近2500億美元,對大陸貿易順差突破1700億美元,較2000年大增311億美元。若按我方的數據,去年對中國大陸與香港出口金額也達到1889億美元,年增24.8%;貿易順差1047億美元,較2020年652.8億美元增加甚多)
statista:

Gross financial assets per capita in selected countries worldwide in 2020



statista.com/statistics/329097/gross-private-financial-assets-per-capita-worldwide/
world rank
country
assets in Euros
1
Swiss
313259
2
US
260582
3
Denmark
212568
4
Nederland
180193
5
Sweden
173133
6
Singapore
152590
7
Australia
151689
8
NZ
144656
9
Taiwan
139831
10
Canada
139413
11
Belgium
126463
12
Japan
124897
● Finance Yahoo, 2021-11-20: Taiwan - a GDP of $760 billion (21st biggest) and GDP per capita of $32,000, (29th). a critical supplier of semiconductors, (20% global market share), in 2020, Taiwan's exports to China hit an all-time high. And "China and Hong Kong combined now represent 34% of Taiwan's overall trade, compared with 13% with the United States," according to Brookings. (The U.S. Trade Representative notes that Taiwan is currently our 9th largest goods trading partner with $90.6 billion in two-way goods trade — during 2020.) finance.yahoo.com/news/why-you-should-care-about-taiwan-103511885.html
● Finance Yahoo, Bloomberg, 2022-2-7: The government of President Tsai Ing-wen is looking to cultivate additional overseas markets to reduce the mainland's economic leverage.Taiwan Set to Lift Ban on Fukushima Food to Boost Japan Tiesfinance.yahoo.com/news/taiwan-set-lift-ban-fukushima-140007509.html?fr=sycsrp_catchall
● South China Morning Post, Hong Kong, 2022-4-11 Taiwan is heavily reliant on the mainland's economy, with at least 40 per cent of the island's exports going across the strait.scmp.com/news/china/military/article/3173760/would-us-really-rescue-taiwan-if-mainland-china-attacked
● War On The Rocks, 2022-1-27 (warontherocks.com/2022/01/taiwan-is-not-ukraine-stop-linking-their-fates-together/): Taiwan is an economic powerhouse that punches well above its weight in global commerce, and its economy is closely intertwined with the rest of East Asia and North America. In 2020, it was America's 9th-largest trading partner, with $106 billion in two-way trade in goods and services. It is also the home of the world's most strategically important company, TSMC, which has built a daunting lead in semiconductor technology and now accounts for more than half of global foundry revenues...... its per-capita gross domestic product level with Germany's, adjusted for purchasing power.
Taiwan dominates the global production of computer chips / ◆ BBC, 2022-1-12, source: The Military Balnce, IISS 2021

Taiwan
S. Korea
China
Other
65%
18%
5%
12%

news.yahoo.com/china-taiwan-really-simple-guide-142542268.html

◆

New York Times

,

2022-1-25:

75 percent of production takes place in East Asia.

Ninety percent of the most advanced chips are made in Taiwan.

..China

could use economic coercion, cyberoperations and hybrid tactics to try to seize or harm Taiwan

'

s semiconductor industry — Biden promised he would work to bring production of semiconductor chips back to the United States.

nytimes.com/2022/01/26/us/politics/computer-chip-shortage-taiwan.html

◆

CBS, 2022-7-8:

Taiwan accounts for 64% of the total chip foundry market, according to data from TrendForce. Taiwan Semiconductor Manufacturing Company, or TSMC, accounted for 53% of total foundry revenue in 2021, according to TrendForce.

cnbc.com/2022/07/08/why-tensions-between-china-and-taiwan-are-on-the-rise.html
● BBC, 2022-4-25 (bbc.com/news/business-60918337): Taiwan is the first place in Asia to legalise same sex marriage. However, on the ground in Taiwan, things can feel decidedly more old-fashioned, especially at the bank. "Taiwan's banking industry is very, very traditional. There's a lot of bureaucratic issues in it...
● Global Times, 2021-9-20: Taiwan has a trade surplus of more than $100 billion a year with the Chinese mainland ... Mainland stops importing two Taiwan fruits, and DPP authority is howling. globaltimes.cn/page/202109/1234662.shtml
● Forbes, 2022-2-5: Milestone: Taiwan Tops $100 Billion In U.S. Trade For First Time In 2021 forbes.com/sites/kenroberts/2022/02/05/taiwan-tops-100-billion-in-us-trade-in-2021-for-first-time/?sh=40b07b1064a3
● Japan Times, 2022-7-8: the Japan Center for Economic Research predicts that Taiwan's per capita GDP will exceed Japan's in 2028. japantimes.co.jp/opinion/2022/07/08/commentary/world-commentary/will-taiwan-next-ukraine/
● Japan Times, 2021-7-5: China could try to strangle Taiwan economically. Business ties between the two countries have grown into a dense web of interdependence: Taiwanese companies have invested $190 billion on the mainland and more than a million Taiwanese live there. Yet these ties are now fraying as talk of economic decoupling occupies businesspeople and politicians in Taiwan japantimes.co.jp/opinion/2021/07/05/commentary/world-commentary/dire-straits-taiwans-fragile-status-quo/
GDP per capita (Norminal) Ranking
Taiwan - No.10 in Asia & Pacific

country/economy

(Asia)

2021
rank
2020
rank
Singapore
66263 ($)
8
59795 ($)
7
Australia
62619
9
52905
10
Qatar
61791
10
54185
9
Hong Kong
49485
20
46657
15
New Zealand
48349
21
41165
21
UAE
43538
24
38661
25
Macau
42107
25
35621
27
Japan
40704
26
40089
24
Korea
35196
29
31638
29
Taiwan
33402
32
28358
32

statisticstimes.com/economy/projected-world-gdp-capita-ranking.php
● Council on Foreign Relations, 2021-5-10: Taiwan's economy remains reliant on trade with China, which is the island's largest trading partner. However, their economic relationship has experienced disruptions in recent years, partly due to Beijing's pressure on the island and Taiwanese officials' growing concern about its overreliance on trade with China.(cfr.org/backgrounder/china-taiwan-relations-tension-us-policy
●