○
Taiwan reviews by international and local organizations:
○
News: ◆◆ Sydney Morning Herald, 2023-6-7: Anthony Albanese said Australia's goal was "not to prepare for war but to prevent it". The more willing we are to support Taiwan's security, the less likely it is we would ever need to fight for Taiwan ◆ CNN, 2023-6-2: the International Institute for Strategic Studies (IISS) report: there is no evidence the war in Ukraine has "altered Chinese thinking on the timescale or methodology" for a possible attack on Taiwan. ◆ Economist, 2023-5-31: Taiwan's would-be presidents all promise a way to peace. Sadly, it is not entirely within their power. The next president will take office with the island at the centre of a bubbling superpower showdown ◆ Washington Post, 2023-5-31: Why are tensions so high? China increasingly sees the US as abrogating its "One China policy," which has been the basis of relations since 1979. ◆ IG Financial Times, 2023-5-31: Fearing a potential conflict in Asia, western companies are looking to move production out of Taiwan. But turning away from the self-ruled island will come at a high price for manufacturers ◆ New York Times, 2023-5-30: Taiwan ambassador says Ukraine's success against Russia will deter any consideration or miscalculation that an invasion can be conducted unpunished, without costs, in a rapid way
Elbridge Colby

,

a leading voice for a new "pivot to Asia."
John Walters

,

Hudson Institute CEO
He wants to see the U.S. concentrate efforts on deterring war in the Pacific, even if that means abandoning European interests.

。

the U.S. simply does not have the capability for building the alliance system Walters envisions or supplying it with the requisite arms and ammunition to fight wars with two great powers at once

;

It will take well into the 2030s before we

'

re in much better shape

;

before Chinese leader Xi Jinping moves on Taiwan, the U.S. should put in place immediate measures to attack the key segments of that CCP economic and military power

。

"Ukraine Is No Distraction From Asia."

;

the US can fend off Russian and Chinese revanchism simultaneously

;

aggression must be met by strong American alliances with key countries, including both Taiwan and Ukraine

;

the kinds of weapons needed in Ukraine and Taiwan are different enough that supplying one will not substantially affect the other

;

most Republicans on Capitol Hill remain strong supporters of Ukraine

.

Ukraine will help generate (US) domestic resolve to fight for Taiwan.
washingtonexaminer.com/news/inside-right-debate-ukraine-taiwan

2023-6-1
◆ The Christian Science Monitor, 2023-5-30: Taiwan's rep. in US: Taiwan is preparing to defend itself, and not just rely on other democracies to save the day. The challenges that the US is experiencing in the defense supply chain have certainly had an impact on Taiwan. ◆ Reuters, 2023-5-27: Failure to back Ukraine would send signal to China about taking Taiwan, Sen. Graham says ◆ Washington Post, 2023-5-29: Choosing Taiwan over Ukraine is frighteningly misguided. China is a greater military threat than present-day Russia ; A turn toward Taiwan will most likely cause us to fail in both places ◆ The Guardian, 2023-5-24: Taiwan's main political parties and an overwhelming majority of Taiwan's people reject the prospect of Chinese rule, but there are large differences in their plans for protecting Taiwan - the KMT says the best way forward is to have friendlier ties with China, DPP's Lai has been described as more "green" (pro-independence) than Tsai Ing-wen ◆ The Guardian, 2023-5-22: US efforts to stifle China's chip industry are thought to be part of a wider plan to hinder Beijing's preparations for war; The strategy seems to be working. ◆ Financial Times, 2023-5-21: Putin's war in Ukraine has "set back" China's ambitions to invade Taiwan, Hillary Clinton said ◆ Washington Post, 2023-5-18: it is now a very serious question whether the United States can defeat a Chinese invasion of Taiwan. To avert war with China, the U.S. must prioritize Taiwan over Ukraine ◆ New York Times, 2023-5-19 : Truss: only if more people visit Taiwan and more speak up for Taiwan, will the Chinese Communist Party realize that many people are paying attention to Taiwan, and so they should not act rashly ◆ New York Times, 2023-5-17 : faced with voters who have been alarmed by Beijing's aggression toward the island, the Kuomintang is placing its hopes on a popular local leader with a blank slate on the thorny question of China. ◆ The Hill, 2023-5-17: Washington must dispense with its misguided policy of strategic ambiguity and make clear that it will defend Taiwan against Chinese aggression. ◆ Washington Post, 2023-5-12: military commitments are unlikely to endure under pressure unless they serve U.S. strategic and economic interests. Washington and Taipei share a vital interest in Taiwan's independence ◆ New York Times, 2023-5-11: Some military strategists argue that TSMC's dominance in microchips provides Taiwan a guarantee against an invasion by China — in part because the United States would need to defend such an important piece of its supply chain. ◆ Council on Foreign Relations, 2023-5-9: Threatening to destroy TSMC is unnecessary and would also help China sow distrust among Taiwanese people toward the US and undermine Taiwan's will to resist Chinese aggression...China's determination to achieve reunification would be just as strong if Taiwan were a poor, agrarian society ◆ Nikkei Asia (Japan), 2023-5-11: the upper echelons of Chinese leadership intend for it to spread, at least to a certain extent. — deciding to forcibly unify Taiwan now would be unrealistic and even dangerous. ◆ DW (Germany) , 2023-5-11: Japan's public reluctant to defend Taiwan should China invade, but soaring defense spending and the upgrading of Japan's naval and air capabilities, in particular, indicate that the military is preparing itself in helping fend off any Chinese attack ◆ Washington Post, 2023-5-10: The president of the Hudson Institute:"Saying that we should prioritize Taiwan over Ukraine is like arguing that the firetruck should be parked at a house down the street to guard against a fire breaking out in the future instead of knocking down the fire at the burning house" full text

◆ Foreign Policy in Focus, 2023-5-10: Unlike Russia, China seems unwilling to sacrifice the country's economic well-being on the pyre of nationalism ◆ Nikkei Asia, 2023-5-11: A contrarian and even taboo view has been allowed to flourish -- that deciding to forcibly unify Taiwan now would be unrealistic and even dangerous ◆ 19FortyFive, 2023-5-10: By stacking their heaviest punches upfront, Beijing thinks that they can render the Americans so dazed and confused — inflicting so much damage at the outset of a fight — that Washington will stand down and abandon Taiwan ◆ The Hill, 2023-5-9: lawmakers on both sides of the aisle have also warned that Taiwan is ill prepared to fend off a military invasion or withstand a blockade ◆ Air and Space Forces, 2023-5-1: There's little evidence that the Taiwanese are headed in that direction, and are heeding U.S. advice to make themselves a military "porcupine,"Glaser said ◆ le Monde, 2023-4-30: China's military exercises in the Taiwan Strait are a reminder of how fragile the island's status quo is ◆ The Nation, 2023-4-26: A Chinese invasion of Taiwan, however, would look very different, involving giant air and sea battles and, in all likelihood, immediate US intervention...any such engagement would almost certainly brush up against the nuclear threshold—and very likely cross it. ◆ AP, 2023-4-22: Lawmakers war-game conflict with China, the toll on all sides is staggering. Alarmed and alienated allies in the war game leave Americans to fight almost entirely alone in support of Taiwan. ◆ CNN, 2023-4-20: complaints at high levels of both the Taiwanese and US governments about the lack of preparation and poor morale in the Taiwanese military ◆ New York Times, 2023-4-18: Fear of China is pitting Taiwan's people against each other ◆ Brookings, 2023-4-17: the Taiwan voters are deeply pragmatic. a significant majority of the Taiwan voters are in the middle ◆ Washington Post, 2023-4-15: Unlike Ukraine, there is no situation under which Taiwan can defend itself without direct military intervention from the United States ◆ Brookings, 2023-4-15: Anxiety about China's growing military capabilities to threaten Taiwan... has fed American impulses to alter longstanding policy, and to increasingly view challenges confronting Taiwan through a military lens ◆ New York Times, 2023-4-14: China's Communist Party is now convinced that America wants to bring it down, which some U.S. politicians are actually no longer shy about suggesting. ◆ The Guardian, 2023-4-14: German foreign minister warns of 'horror scenario' in Taiwan strait... the French president, Emmanuel Macron: The worst of things would be to think that we Europeans must be followers on this subject and adapt ourselves to an American rhythm and a Chinese overreaction."◆ TIME, 2023-4-12: Xi understands that the risks of Pyrrhic victory – or even of defeat – are real. At a time when China is emerging from the world's most draconian lockdown and its worst economic slowdown in decades ◆ New York Post, 2023-4-8: House Foreign Affairs Committee chairman Rep. Michael McCaul has said the US may send troops to Taiwan should China invade the self-governed island. ◆ BBC, 2023-4-8: Taipei residents seemed unperturbed by China's military rehearsing encirclement of Taiwan ◆ FoxNews, 2023-4-6: Taiwan residents are in apparent agreement in believing the U.S. will not come to their aid ◆ New York Times, 2023-4-6: Despite the combative words, any retaliation by Beijing may be tempered by the difficult calculations facing China's leader, including over Taiwan's coming presidential race - could hurt the presidential hopes of the Nationalists, which favors stronger ties with China ◆ New York Times, 2023-4-5: Walking a Tightrope: Taiwan's president, Tsai Ing-wen, who recently visited the United States, has edged closer to America while trying not to anger China ◆ Economist, 2023-3-29: a Taiwanese policy adviser frames voters' choice as one between "peace or war" ...The DPP has criticised KMT's "embracing appeasement", but it, too, worries about conflict ◆ Taiwan is losing its friends. Economist (2023-3-28): With China's wallet growing ever larger, Taiwan may instead need to hope that historical ties help to sustain the loyalty of its few remaining diplomatic partners ◆ AFP (2023-3-28): Latin America has been crucial to the diplomatic struggle between Beijing and Taipei since they separated in 1949....the decision by Honduras was a blow to Washington ◆ Modern War Institute at West Point, 2023-3-23: to deter a specific fait accompli move by China against Taiwan—namely, the seizure of one of Taiwan's outlying islands. ... the best option is something they describe as "the poison frog strategy."◆ Foreign Affairs, 2023-3-21: J. Chen Weiss: Alarm Over a Chinese Invasion Could Become a Self-Fulfilling Prophecy. The hard but crucial task for U.S. policymakers is to thread the needle between deterrence and provocation...stray too far toward the latter, inadvertently provoking the very conflict U.S. policymakers seek to deter ◆ full text
Taiwan's President is expected to meet Speaker McCarthy, Beijing will decide how strongly it wants to respond

New York Times, 2023-3-29

President Tsai Ing-wen

risk

s

a show of force from Beijing

。

Beijing

just

lured Honduras to abandon diplomatic ties with Taipei in what many saw as pre-emptive punishment for her trip.

nytimes.com/2023/03/29/world/asia/taiwan-president-us-china.html

Bloomberg, 2023-3-29

Tsai is unlikely to use this moment to "push boundaries

"

, partly to avoid

"

accusations of being provocative by Taiwanese voters."

.

Any Tsai meeting with McCarthy

"

puts the ball in Beijing

'

s court

"

news.yahoo.com/china-warns-taiwan-leader-mccarthy-031352507.html?fr=sycsrp_catchall

Washington Post, 2023-3-29

When Honduras switched allegiance from Taipei to Beijing last week, it put the diplomatic future of Taiwan in a more precarious position

washingtonpost.com/world/2023/03/29/honduras-taiwan-china-allies-relations/

Newsweek, 2023-3-31

"

Tsai's visit to the U.S. can be seen as a face-saving way for the U.S. to avoid another Pelosi-like fiasco from which it is still paying a price in global standing,""At the same time, Ma's visit to China shows there is strong desire on both sides of the Taiwan Straits for a peaceful solution.

" msn.com/en-us/news/world/what-two-taiwan-trips-mean-for-fate-of-most-dangerous-us-china-issue/ar-AA19komh

Tom O'Connor

Bloomberg, 2023-3-31

The expected California meeting with McCarthy was considered a concession: At the request of the Taiwanese government, McCarthy decided to put off a potential trip to Taiwan until after presidential elections next year and instead host Taiwan's leader on US soil

.

msn.com/en-us/news/world/white-house-tries-to-keep-china-calm-while-taiwans-tsai-visits-the-us/ar-AA19il7y

Jenny Leonard and Cindy Wang

L.A. Times, 2023-3-31

On a sensitive U.S. visit, Taiwan's leader stresses defense and democracy

msn.com/en-us/news/world/on-a-sensitive-u-s-visit-taiwan-s-leader-stresses-defense-and-democracy/ar-AA19j0p0

ELLEN KNICKMEYER, MICHAEL WEISSENSTEIN and LISA MASCARO

The Guardian, 2023-3-28

(ex president)

Ma Ying-jeou

'

s

"

we are all Chinese

"

message is starkly at odds with vision of Tsai Ing-wen, who seeks support from Washington

.

Taiwan caught between superpowers as rival leaders visit China and US

theguardian.com/world/2023/mar/28/taiwan-leaders-visit-china-us-ma-ying-jeou-tsai-ing-wenTaipei
◆ Newsweek, 2023-3-20: The combination of political warfare, gray-zone actions, and the potential for kinetic warfare come together most clearly around Taiwan, which offers the most immediate prospect of China going on a major kinetic offensive. ◆ Reuters, 2023-3-13: In "anticipation of a total blockade of the Taiwan Strait"... Taiwan says defence spending to focus on readying for 'total blockade' by China ◆ U.S. Naval War College - China Maritime Studies Institute (Mar., 2023): The US may be able to defeat an attempted invasion landing but will lose when China imposes a blockade on the island...Unless US forces were able to dismantle the PLA-integrated air defense system, the PLA could sustain the air blockade for months if not years without exhausting its inventory of air-to-air or surface-to-air weapons. (Asia Times) ◆ The Hill, 2023-3-13: The U.S. must recognize the centrality of maintaining the Taiwanese people's confidence that America and its partners will not abandon them. Taiwanese must be sure not only that the U.S. will fight to defend them but also that it will prevent China from isolating them ◆ Economist, 2023-3-9: War is no longer a remote possibility, because an unstated bargain has frayed. Taiwan could resist an attack on its own only for days or weeks, any conflict could escalate quickly into a superpower confrontation.◆ Economist, 2023-3-6: Taiwan sees invasion and "grey zone" threats as equally important. they are unwilling to give up conventional defence, because there is no guarantee that America would step in. ◆ Foreign Policy Research Institute, 2023-3-9: Xi Jinping views "reunifying" Taiwan with China as an existential task for the ruling Communist Party. For the United States, preserving the status quo in the Taiwan Strait is critical for American security and economic interests ◆ Economist, 2023-3-6: Taiwan's fate will, ultimately, be decided by the battle-readiness of its people ◆ full text
Honduras ditching Taiwan raises larger geopolitical concerns

AP, Washington Post, The Hill, 2023-3-15

thehill.com/homenews/ap/ap-international/honduras-ditching-taiwan-raises-larger-geopolitical-concerns/

...

a blow to the Biden administration, which has rather fruitlessly tried to convince countries in the region to stick with Taiwan. Taiwan, a U.S. ally,

...

also exemplifies the American government is "losing it's grasp on" Latin America

L.A. Times, 2023-3-15

The switch would leave Taiwan recognized by only 13 countries as China spends billions to win

recognition of its "one China" policy

.

msn.com/en-us/news/world/honduras-to-seek-official-ties-with-china-spurning-its-long-relationship-with-taiwan/ar-AA18EeCH

Bloomberg, 2023-3-15

Tsai Ing-wen has worked to raise the self-governing island's profile on the world stage during her tenure. Tsai says Taiwan deserves broader recognition and greater support given its status as a democracy.

msn.com/en-us/news/world/taiwan-may-lose-official-ally-as-honduras-mulls-china-switch/ar-AA18Du8h
◆ Reuters, 2023-3-5: Chinese Premier Li Keqiang pledged "peaceful reunification" with Taiwan...Taiwan holds presidential and parliamentary elections in early 2024 and tensions with China are likely to dominate campaigning ◆ Foreign Policy in focus, 2023-3-2: if Beijing did decide to invade Taiwan after 2026, TSMC's intellectual capital, in the form of its top computer scientists, would undoubtedly be on outbound flights for Phoenix, leaving little more than a few concrete shells and some sabotaged equipment behind...significant chip factory projects being put in place ... Add it all up and the U.S. is already about halfway to the "minimum of three years and a $350 billion investment… to replace the Taiwanese [chip] foundries ◆ USNI, 2023-3-2: Undersecretary of Defense for Policy Colin Kahl testified before the House Armed Services Committee that he does not think China will attempt to invade Taiwan before 2027. ◆ Reuters, 2023-2-28: The threat of China invading Taiwan has moved to the centre of global money managers' risk radars and is factoring in their investment decisions,"China wouldn't have to invade Taiwan or actually get hot to just cause a stir in that part of the market" ◆ Washington Post, 2023-2-28: The Russian invasion has allowed the United States to conduct a dry run of exactly the sort of policies that deterring or defeating a Chinese attack on Taiwan would require: active defense industrial production lines, an efficient logistics network ...a coalition of allies ... ◆ full text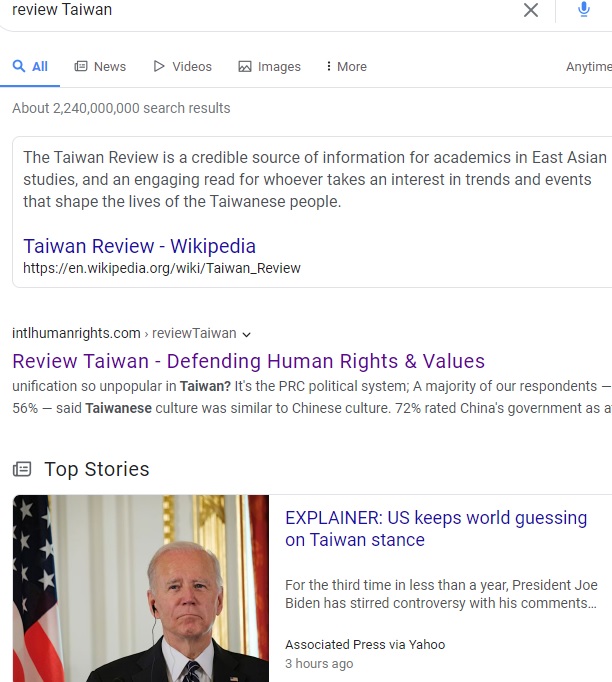 pic. : This websites-group was ranked No.1 "review Taiwan" on US Yahoo, 2023-5-23, 2023-5-1, 2023-4-30, 2023-4-15, 2023-3-31, 2023-1-21, 2023-1-1, 2022-12-24, 2022-12-17, 2022-11-29, 2022-11-1, 2022-10-23, 2022-10-10, 2022-9-23, 2022-9-16, 2022-9-5, 2022-8-24, 2022-8-18, 2022-8-1,2022-7-29, 2022-7-21, 2022-7-4, 2022-7-1, 2022-6-14, 2022-6-2, 2022-5-26, 2022-5-24, 2022-4-30, 2022-4-9, 2022-3-29, 2022-3-21, 2022-3-14, 2022-2-22, 2022-2-10, 2022-2-3, 2022-1-22, 2022-1-11, 2022-1-3, 2021-12-27, 2021-12-10, 2021-12-4, 2021-11-21, 2021-11-12, 2021-10-29; No.2 "review Taiwan" on US Yahoo, 2023-3-20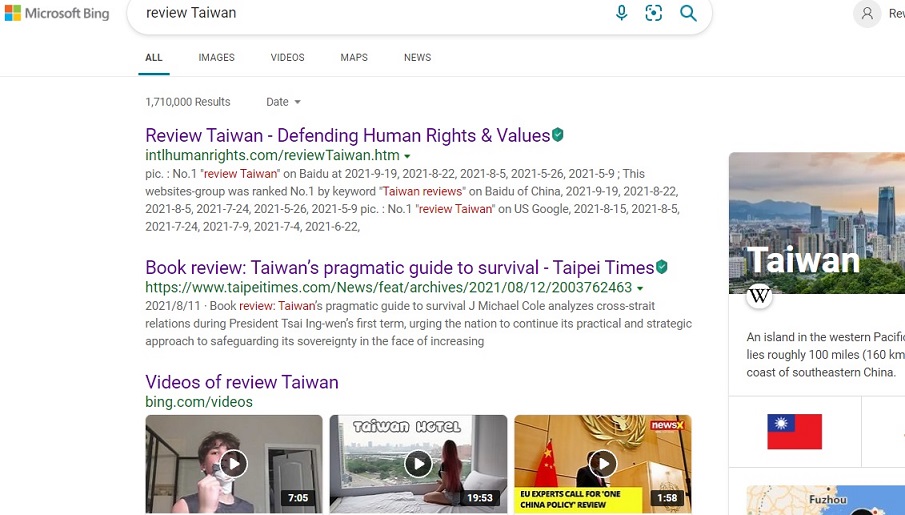 pic. : This websites-group was ranked No.1 by keyword "review Taiwan" on Bing, 2023-6-3, 2023-5-23, 2023-5-1, 2023-4-30, 2023-4-15, 2023-3-31, 2023-3-20, 2023-2-28, 2023-1-21, 2023-1-1, 2022-12-24, 2022-12-17, 2022-11-29, 2022-11-1, 2022-10-23, 2022-10-10, 2022-9-23, 2022-9-16, 2022-9-5,2022-8-24, 2022-8-1, 2022-7-29, 2022-7-21, 2022-7-4, 2022-7-1, 2022-6-14, 2022-5-26, 2022-4-30, 2022-4-9, 2022-3-21, 2022-3-12, 2022-2-22, 2022-2-10, 2022-1-22, 2022-1-11, 2022-1-3, 2021-12-27, 2021-12-10, 2021-12-4, 2021-10-25, 2021-10-20, 2021-10-14, 2021-10-8, 2021-10-3, 2021-9-19, 2021-8-22, 2021-8-5, 2021-7-24, 2021-5-26, 2021-5-9, 2021-4-18, 3-26-2021, 3-20-2021, 3-8-2021, 2-21-2021, 1-1-2021, 12-6-2020, 11-29-2020, 11-1-2020, 10-11-2020, 8-2-2020 6-21-2020, 5-19-2020, 5-13-2020, 4-23-2020, 2-2-2020, 1-17-2020, 12-31-2019, 12-12-2019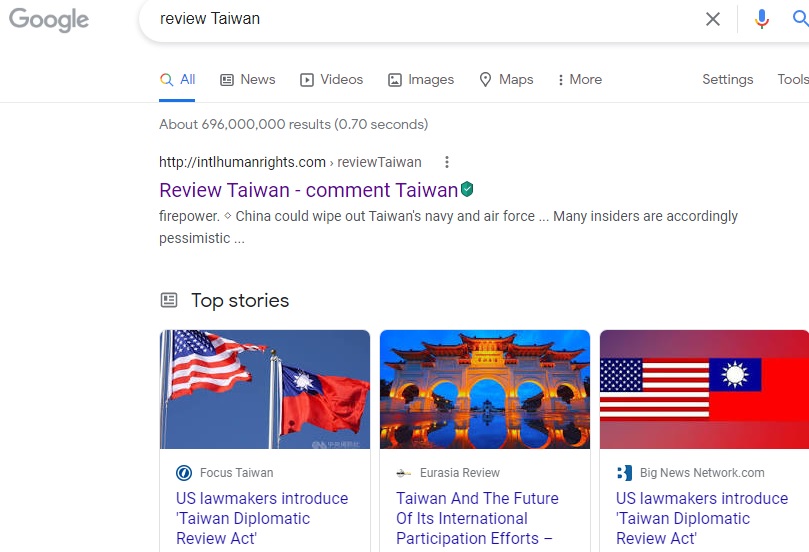 pic. : No.2 "Taiwan reviews" on US Google, 2023-6-4, 2023-5-23, 5-21; No.3 "Taiwan reviews" on US Google, 2023-5-2, 2023-3-26; No.2 "review Taiwan" on US Google, 2023-1-1,2022-12-24, 2022-12-17, 2022-11-29, 2022-11-20, 2022-11-15, 2022-11-6 ; No.1 "review Taiwan" on US Google, 2022-3-29, 2022-3-25, 2021-9-29, 2021-9-23, 2021-9-21, 2021-8-15, 2021-8-5, 2021-7-24, 2021-7-9, 2021-7-4, 2021-6-22, 2021-6-15, 2021-5-31, 2021-5-1, 2020-12-20 ;
No.2 at 2022-8-12, 2022-7-21, 2022-5-25, 2022-4-30, 2022-3-21, 2022-3-12, 2022-2-22, 2022-2-10, 2022-1-11, 2022-1-3, 2021-12-27, 2021-12-10, 2021-12-4, 2021-11-12, 2021-10-25, 2021-9-19; No.2 "Taiwan reviews" on US Google, 2022-5-25; "Taiwan reviews" among top ranks on US Google, 2022-08-23, 2022-08-24; No.3"review Taiwan" on Google, 2022-9-30, 2022-9-23; No.4 "Taiwan reviews" on Google, 2023-4-30
Pew Research org., 2023-3-2
US respondents' views about a hypothetical conflict between China, Taiwan differ by question wording

 
a conflict between China and Taiwan
China invade Taiwan
Taiwan declared Independence, China invaded
support China
8%
7
10
support Taiwan
45%
49
40
remain neutral
47%
44
50
when the scenario involves Taiwan declaring independence. Under this hypothetical, 46% of Democratic respondents say the U.S. should support Taiwan, compared with 28% of Republicans.
pewresearch.org/decoded/2023/03/02/testing-survey-questions-about-a-hypothetical-military-conflict-between-china-and-taiwan/
◆ New York Times, 2023-2-27: U.S. military planners would prefer to fight a conventional war. But the Chinese are prepared to wage a much broader type of warfare that would reach deep into American society. The U.S. economy is heavily dependent on Chinese resources and manufactured goods ◆ Washington Post, ABC news, 2023-2-27: CIA chief: Xi Jinping has instructed his country's military to "be ready by 2027" to invade Taiwan; China has some doubt on ability to invade Taiwan ◆ Asia Society Policy Institute, Feb. 2023: evidence from the Chinese Communist Party (CCP) Congress in 2022 augurs against an invasion or all-out blockade in the short term. PRC might seizure of one or more of the islands currently controlled by the ROC. ◆ Japan Times, 2023-2-24: Japan will, at best, be a (possibly reluctant) follower of a U.S.-led coalition to defend Taiwan...In case Chinese President Xi Jinping attempts to annex Taiwan, the stakes of confronting Beijing will be much higher for Japan and other U.S. partners than facing Moscow is for Europeans. ◆ New York Times, 2023-2-22: TSMC might have been forced to set up a factory in the United States because of political considerations, but so far, the Phoenix project has yielded very little benefit for TSMC or Taiwan...citing lofty costs. ◆ New York Times, 2023-2-22: Gallagher argued that Taiwan could not be expected to build defense formidable enough to deter Beijing...without the US making good on a backlog of purchase order ◆ WSJ, Fox News, 2023-2-23: The U.S. is preparing to send 100 to 200 troops to Taiwan for training amid rising tensions with China; The Wall Street Journal described the planned troop increase in the coming months as the largest deployment of American forces in Taiwan in decades. ◆ TIME, 2023-2-23: Winning the tech war with China depended entirely upon persuading U.S. allies—particularly Taiwan, the Netherlands, and Japan—to follow the U.S. lead and adopt similar export control regulations ◆ Aljazeera, 2023-2-23: CIA Director William Burns recently said although Xi was likely "unsettled" by Russia's failures in Ukraine, he had still told China's military to be ready to invade Taiwan by 2027. ◆ Bloomberg, 2023-2-22: Holding off the PLA for two weeks is a key goal of Taiwan's military because it would allow time for the US and other allies to come to its aid. ◆ Washington Post, 2023-2-22: Our best chance of preventing an invasion of Taiwan, and of essentially preventing World War III, is to put actual hard power on Taiwan ◆ Washington Post, 2023-2-20: growing concern — conviction even — that war between the United States and China could be coming. The U.S. should deter — not provoke — Beijing over Taiwan. ◆ Economist, 2023-2-18: China still relies on Russia for certain crucial military components, which makes the friendship central to any plans China might have to invade Taiwan ◆ NY Times, 2023-2-15: An active denial strategy that focuses on supplying defensive weapons to U.S. allies and a lower-profile, more agile deployment of U.S. forces in the region would raise the costs of Chinese military action without exacerbating China's own sense of insecurity ◆ Council on Foreign Relations, 2023-2-12: the unpredictable nature of ADIZ violations is intended to keep the status quo around Taiwan unstable and ambiguous in order to facilitate strategic surprise ◆ CNN, 2023-2-9: More US firms in Taiwan say they're seeing 'significant disruption' due to rising tension with China - elevated concern from global headquarters, increased shipping, insurance or financial costs, as well as staff anxiety ◆ Bloomberg, 2023-2-5: the US position on the island remains equivocal. The intention is to avoid provoking Beijing, yet the consequence is to weaken deterrence. ◆ Washington Post, 2023-2-3: (China's) state-run People's Daily said the United States must drop its "obsession" with containing China. ◆ Washington Post, 2023-2-2: Japan must do more, and faster, to avert war over Taiwan...Crudely, Japan seems to be prepared to push back against only Chinese assets that are clearly poised to attack its sovereign territory. ◆ New York Times, 2023-2-1: The United States is increasing its military presence in the Philippines , the Philippines is among the most geographically close to Taiwan...is crucial to countering China in the event it attacks Taiwan ◆ US Naval Institute, 2023-2-1: The US and Taiwan should plan a defense strategy centered on defeating China in an urban war; it is possible that using the geography of the island and its urban citadels is the best hope of success in the face of PLA overmatch ◆ Forbes, 2023-2-2: The United States Could Defend Taiwan—At The Cost Of A Lot Of Submarines ◆ Forbes, 2023-1-31: China's lack of capacity for amphibious assault as evidence that it will not be ready for war so quickly. China's use of civilian ferries in military exercises makes it difficult to predict when, and if, China will invade Taiwan. ◆ Fortune, 2023-1-29: WSJ: Seth Cropsey warned of a possible war with China over Taiwan. "If Lai Ching-te, (a fierce supporter of Taiwan's independence) does win (in 2024), Beijing could move quickly to invade".◆ Wall Street Journal, 2023-1-26: Will the U.S. Really Defend Taiwan? Washington is strategically unprepared for a crisis and Biden's policies are hampering deterrence ◆ WSJ, 2023-1-23: Taiwan is much more important (than Ukraine) to our security and prosperity. Any tanks we can spare should go to Taipei ◆ New York Times, 2023-1-21: Glaser warns that symbolic victories may not be worth the cost of provoking China ... "But the bottom line is, this is a fight over symbolism" said Dan Blumenthal ◆ full text
◆ The Hill, 2023-1-23: the U.S. defense industrial base is not currently equipped to support a protracted conventional war...How do you effectively deter if you don't have sufficient stockpiles of the kinds of munitions you're going to need for a China-Taiwan Strait kind of scenario? ◆ Bloomberg, 2023-1-21: A more effective structure would de-emphasize vulnerable combat aircraft and surface ships and emphasize instead land-based anti-air and anti-ship capabilities. This is what some commentators have called the "porcupine strategy" ◆ USNI, 2023-1-23: Sen. John Cornyn also questioned whether Taiwan could "hold out for a couple of weeks … until the cavalry arrives" for its rescue.◆ USA Today, 2023-1-20: Taiwan's envoy to the US says her island has learned lessons from Ukraine's war that will help it deter, defend against an attack by China. Among the lessons: preparing for the kind of all-of-society fight Ukrainians are waging against Russia ◆ full text
Biden's State of the Union speech - Taiwan war

The Hill, 2023-2-9
Biden's State of the Union speech on Feb. 7 buried these two clear and present dangers simultaneously confronting national security. When is the Biden administration going to recognize that we are essentially in the equivalent of WWIII?
Washington Examiner, 2023-2-1

State of Our Union: Biden's China policy tolerates excessive risks

The Biden administration is playing with fire by refusing to prepare for war.
The Hill, 2023-2-14

In his first

State of the Union address

in March 2022, President Biden, proclaimed, "In the battle between democracy and autocracy, democracies are rising to the moment

";...

if China invaded Taiwan, would the international order really collapse? Would authoritarianism really spread throughout the globe? Is it in the U.S. interest to come to Taiwan's defense? Are we prepared to send Americans into harm's way?
◆ War On The Rocks, 2023-1-20: Training, Not Arms Sales, Should Be the New Priority ◆ AFP, 2023-1-21: Blinken sees lower US tensions with China but risks on Taiwan ◆ WSJ, 2023-1-19: The Heritage Foundation's latest 'Index of U.S. Military Strength' warns of declining power in the U.S. Navy and Air Force. Taiwan is ramping up its spending on defense but its conscription and readiness are underwhelming. ◆ CNN, 2023-1-20: In Taiwan, ex-conscripts feel unprepared for potential China conflict ◆ Economist, 2023-1-19: TSMC is playing a subtle game of diplomacy in which its business interests come first ◆ Star & Strips 2023-1-19: Taiwan defense experts expect few US boots on the ground if war breaks out with China ◆ The WEEK (UK), 2023-1-19: China's "compounding troubles" — the demographic challenges, the pandemic and a troubled property market — could prompt President Xi Jingping to take rash action. ◆ New York Post, 2023-1-14: the U.S. needs to speed up its military shipments to Taiwan, specifically long-range bombers with long-range anti-ship missiles. ◆ Washington Post, 2023-1-9: Taiwan needs to be prepared to withstand a lengthy siege but has not stockpiled nearly enough energy, food, medicine or ammunition. It has only about 10 days of natural gas supplies in reserve... Unfortunately, a lot of Taiwanese still don't seem to grasp how perilous their situation is. ◆ CNN, 2023-1-9: CSIS War game suggests Chinese invasion of Taiwan would fail at a huge cost to US, Chinese and Taiwanese militaries ◆The WEEK (UK), 2023-1-10: Bloomberg:"calls growing" among American politicians for a commitment to get involved if Beijing invades the island. ◆ full text
General's memo spurs debate: Could China invade Taiwan by 2025? The Hill, 2023-2-2, Fox News, 2023-2-4, USA Today, 2023-2-3

US

generals, officials, experts, law-makers

China invade Taiwan by ?

CIA Director William Burns

Xi has ordered military to be ready for Taiwan invasion by 2027
Philip Davidson, the former head of U.S. Indo-Pacific Command

(Jan. 2023)

China may attack Taiwan — even just its small, outer islands — by 2027

Adm. Charles Richard, commander of U.S. Strategic Command

predicted war by 2027

Chief of Naval Operations Adm. Mike Gilday

(Oct., 2022)

Chinese could attack Taiwan before 2024.

..

or a potentially a 2023 window
Secretary of State Antony Blinken

(Oct., 2022)

on a "much faster timeline" than previously thought.
U.S. Assistant Secretary of Defense for Indo-Pacific Security Affairs Ely Ratner

(July, 2022)

"only a matter of time"
Minihan, the leader of Air Mobility Command

2025

Jacob Stokes, a senior fellow focused on U.S.-China relations at the Center for a New American Security,
before 2027, a crisis or incident that could spiral out of control
House Foreign Affairs Committee Chairman Michael McCaul
agreeing with the assessment on "Fox News Sunday."
Sen. Todd Young (Ind.)

2025

House Armed Services Committee ranking member Adam Smith (D-Wash.)

the 2025 timeline for such an event was "not only not inevitable" but "highly unlikely,"
Retired Army Gen. Barry McCaffrey

2025

, a

"bad judgment"
Gen. Mark Milley, chairman of the Joint Chiefs of Staff

(Nov. 2022)

it will be "some time" before the Chinese have the military capability to invade Taiwan.
news.yahoo.com/general-memo-spurs-debate-could-110000282.html

news.yahoo.com/china-says-balloon-flying-over-152021436.html?fr=sycsrp_catchall
◆ Forbes, 2023-1-9: the extended-range JASSM-ER that helped to win the war in CSIS War game ◆ TIME, 2023-1-7: the threat of a costly armed engagement may encourage Beijing to pursue non-military scenarios to try to coerce Taiwan under its control. ◆ Asia Nikkei, 2023-1-6: reserves, supposedly 2 million strong, are a paper force, with "no way whatsoever" to reinforce existing units in combat ◆ The American SPECTATOR, 2023-1-5: coming crisis over Taiwan is now popularly treated as a foregone conclusion...What is more likely is that China will wait a while longer, probably until the early 2030s.◆ Newsweek 2023-1-5: Russia's Defeat in Ukraine Will Deter China Attack on Taiwan: Ex-NATO Chief ◆ The Hill, 2023-1-3: America's 'strategic ambiguity' on Taiwan gets more dangerous by the day ◆ Financial Times, 2023-1-2: Taiwan's move to extend military conscription will not address broader strategic shortfalls... expert has long urged them to build a territorial defence force, a force which could operate as an urban guerrilla under a more decentralised command ◆ Forbes, 2023-1-2: Economics, often takes a back seat to geopolitics and national pride (questions of sovereignty and the hyper-sensitivities of China's leadership) ◆ The Guardian, 2023-1-1: Ukraine is in the headlines now. But a whole new world of conflict is about to erupt,Taiwan, North Korea, Iran and Palestine are all potential flashpoints ◆ The Hill, 2022-12-30: Mark Esper says Taiwan is "not prepared enough" for a potential Chinese invasion ◆ The Guardian, 2022-12-30: Extending conscription may make Taiwan feel safer – but at the cost of alienating its young people ◆ full text
◆

According to 2023's "Asia

'

s 50 Best Restaurants

, Taiwan ranks No. 9 among Asia's countries, Taipei ranks No. 17 among Asia's cities, Taipei's Mume restaurant ranks No. 45 in top 50 restaurants, the number of Taiwan's restaurants entering top 50 is the least in recent 10 years. Taipei's Logy ranks No. 57, but its chef is a Japanese. Tapei's Adachi Sushi ranks No. 87, Kaohsiung's Liberte ranks No. 96.
Asia's 50 Best Restaurants 2023
theworlds50best.com/asia/en/list/1-50

rank

countries with the most wins

number of restaurants selected

rank

cities with the most wins

number of restaurants selected
1
China (Hong Kong 5, Shanghai 2, ShenZhen 1, Macau 2, Beijing 1)
11
1

Bangkok (Thailand )

9
2
Japan (Tokyo 7, Osaka 1,

Wakayama 1, Kyoto 1

)
10
2

Singapore

9
3
Thailand (Bangkok 9)
9
3
Tokyo (Japan)
7
4
Singapore
7
4
Hong Kong (China)
5
5
S. Korea
4
5
Seoul (S. Korea)
4
6
India
3
6
Shanghai (China)
2
7
Philippines
2
7
Macau (China)
2
8
Vietnam
1
8
Manila (Philippines)
2
9
Taiwan
1
9
Osaka (Japan)
1

♣ No.1 Le Du (Thai.), No.2 Sezanne (Japan), No.3 Nusara (Thai.), 4. Den (Japan), 5 Gaggan Anans (Thai.)...No. 45 Mume (Taiwan Taipei)

 

♣ Bangkok has long been considered a world capital when it comes to street food. But these days, its fine dining scene is proving to be just as alluring. Though most of the winners on the list are fine dining restaurants, one street food eatery managed to break through the pack – Bangkok's Michelin-starred Raan Jay Fai

10
Wakayama (Japan)
1
11
Mumbai (India)
1
12
New Delhi (India)
1
13
Chennai (India)
1
14
ShenZhen (China)
1
15
Kyoto (Japan)
1
16
Ho Chi Minh (Vietnam)
1
17
Taipei (Taiwan)
1
18
Beijing (Chn)
1
◆ Deutsche Welle, 2022-12-30: US support for Taiwan is double edged: both essential to its survival, and risking dragging Taiwan into a much bigger conflict. ◆ Reuters, 2022-12-28: China slams Taiwan for seeking to use the Taiwanese people as "cannon fodder" by extending compulsory military service from four months to one year ◆Wall Street Journal, 2022-12-28: Military conscription is a good start, but leaders in Taipei need to act with greater urgency still ◆ New York Times, 2022-12-26: With Record Military Incursions, China Warns Taiwan and U.S. ; 71 military aircraft buzzed the airspace near Taiwan ◆ Modern War Institute at West point, 2022-12-19: Taiwan has mostly accepted the need to shift to a "porcupine strategy" ... implementation has been slow. And Taiwan has neglected to cultivate the guerrilla-style resistance forces that will be necessary to counter an occupation. ◆ Foreign Affairs, Feb. 2023: a consensus is forming in U.S. policy circles that this peace (Taiwan) may not last much longer. ◆ Politico (eu), 2022-12-20: the consequences of war in Asia would be just as devastating for the Continent. if Taiwan wants to alter Beijing's cost-benefit calculus and deter an invasion, it must move boldly and quickly to bolster its defense. ◆ War on the Rocks, 2022-12-19: Biden's National Security Strategy of October 2022 tilted toward strategic ambiguity. ◆ CNN , 2022-12-17: The population pool is decreasing, so Taiwan is actively considering whether to resume conscription to meet our military needs ◆ The Atlantic, 2022-12-14: in recent years, China has combined those threats and missiles with other forms of pressure, escalating what the Taiwanese call "cognitive warfare": not just propaganda but an attempt to create a mindset of surrender. ◆ War on the Rocks,2022-12-14: Is China planning to attack Taiwan? a careful consideration of available evidence says NO ◆ The WEEK (UK), 2022-12-4 : A RAND Corporation study predicted that a yearlong war would cut the U.S.'s gross domestic product by 5 to 10 percent — but it would slash China's by 25 to 35 percent. ◆ The Atlantic, 2022-12-3: Taiwanese people seem blissfully oblivious of a looming conflict with China. The U.S. can't afford that luxury ◆ full text
NBC, 2022-12-27: Taiwan to extend military conscription to one year, citing threat from China

WSJ, 2022-12-27

a once politically unpalatable move that has become imperative in the face of

growing concerns about a Chinese attack and intensifying competition between Washington and Beijing.

wsj.com/articles/taiwan-to-extend-mandatory-military-service-11672129529
PBS

,

AP,

2022-12-27

The White House welcomed the announcement on conscription reform, saying it underscores Taiwan's commitment to self-defense and strengthens deterrence

..

.mong the youngest demographic group of 20-24, however, only 35.6 percent said they would support an extension

pbs.org/newshour/world/taiwan-extends-compulsory-military-service-from-4-months-to-1-year
CNN

, 2022-12-27

Chinese soldiers can only make an amphibious landing after taking control of the air and the sea

...

before they land, there will likely be bombing and blockade, and we need people to deliver goods and guide residents to air raid shelters

edition.cnn.com/2022/12/27/asia/taiwan-military-conscription-intl-hnk/index.html

Washington Post, 12-27

It had been a widely debated topic for a long time, but faced with Chinese threats, the government was left little room to be hesitant

washingtonpost.com/world/2022/12/27/taiwan-military-mandatory-service-china/
Mainichi

Japan

,

2022-12-28

The change is said to have come at the request of the United States
mainichi.jp/english/articles/20221227/p2g/00m/0in/058000c

GT (China), 2022-12-27

the DPP authorities might incorporate some conscripts into the "cyber army" to engage in collecting intelligence and conduct information warfare against the mainland, given their relatively weak capabilities on the real battlefield.

。

globaltimes.cn/page/202212/1282753.shtml 12-27
◆ Economist, 2022-11-29: many Taiwanese are tired of squabbles over national identity, especially after Ms Tsai's refusal last year to accept an offer of much-needed vaccines from China ◆ Wall Street Journal, 2022-11-28: Taiwan Ruling Party's election drubbing could ease tension with China and persuade Chinese leaders that they can peacefully influence politics there. ◆ Reuters, 2022-11-27: Tsai had tried to frame the elections as more than just a local vote, saying the world is watching how Taiwan defends its democracy amid tensions with China... But her strategy failed to win public support.◆ Bloomberg, 2022-11-26: Taiwan Counts Votes in Elections Set to Shape Presidential Race ; Expert: The winners of elections will have a say in who get picked to in the subsequent presidential elections ◆Washington Post, 2022-11-23: Despite consistent prodding from Washington, however, Taipei is also not nationalistic enough in the sense that it hasn't engaged in the kind of military preparation necessary to deter an attack. Its political leaders are reluctant to reduce their dependence on U.S. protection ◆ Wall Street Journal, 2022-11-23: ...the persistent fecklessness of Taiwanese government's defense policy, whose bottom line is that the island should be defended by others while Taiwan's youth can continue to play video games. ◆ Economist, 2022-11-24: Where might conflict flare up in 2023? Keep an eye on Taiwan and the South China Sea—and the Himalayas ◆Wall Street Journal, 2022-11-22: In Taiwan, a Shaky Status Quo Prevails; The people here have little desire either to yield to Beijing or to provoke a war ◆ Fortune, 2022-11-19: U.S. restrictions on selling advanced computer chips to China could make invading Taiwan more tempting to Beijing. U.S. faces 'immediate Great Depression' if China seizes Taiwan's semiconductor industry ◆ Economist, 2022-11-18: Will Taiwan be the Ukraine of Asia? The status quo is breaking down, making war more likely ◆Washington Post, 2022-11-13: Congress seeks to arm Taiwan quickly before the bullets start flying ◆ CNN's meanwhile in China, 2022-11-14: The Chinese believe the US goal is to keep China down so we can contain it. And the US believes China's goal is to make the world safer for authoritarian states, push the US out of Asia and weaken its alliance system ◆ CNN, 2022-11-13: Asked during a news conference whether he would reiterate his commitment to defend Taiwan militarily directly to Xi, Biden demurred. ◆ NY Times, briefing, 2022-11-11: Taiwan is the top issue. Biden has taken a bolder stance on Taiwan than previous U.S. presidents. ◆ Washington Examiner, 2022-11-11: commander of U.S. Strategic Command: This Ukraine crisis is just the warmup, the Taiwan war may be the next world war ◆ Washington Post, 2022-11-10: Beijing might also resort to force to stem what it sees ... a growing Taiwan-centric identity — as well as deepening U.S.-Taiwan security ties ◆ SCMP, 2022-11-10: General Mark Milley vows military support for Taiwan ◆ Economist, 2022-11-10: International attention is always welcome in Taiwan's quest for global recognition ◆ Newsweek, 2022-11-8: Beijing's forces have "a lot of work to do" before attempting what would be one of the most difficult military campaigns in modern history ◆ USNI, 2022-11-7: Pentagon official: China will increase pressure on Taiwan in next two years rather than invade ◆ The Atlantic, 2022-11-7: Because Taiwan is an island, it will be difficult to resupply in the event of hostilities; Taiwan needs support now ◆ National Interest, 2022-11-4: Washington should mediate a political solution between Moscow and Kyiv and refocus its global efforts on deterring Beijing from invading Taiwan ◆ Fox News, 2022-11-4: If China conquers Taiwan, it would be huge blow to US national security, economy ◆ Washington Post, 2022-11-3: Taiwan is sounding an alarm about Emperor Xi...time is running out to do what's needed to avoid war ◆ FoxNews, Reuters, Hill,Vice, 2022-10-31: US to Put Nuclear-Capable B52s in Australia as Taiwan Invasion Fears Grow ◆ NEWS (Australia),2022-10-30: The lessons of the Russian war against Ukraine shows that China militarily needs much more time to strengthen and revamp its war-fighting establishment to address the glaring weaknesses and gaps ◆ Fortune, 2022-10-30: China's Xi Jinping now has 'unlimited power' and could use Taiwan as a distraction from 'internal problems' ◆Washington Post, 2022-10-28: Taiwan, missiles and spying set to be China's priorities under new Xi term ◆ WarOnTheRocks, 2022-10-28:U.S. support for Ukraine and other dynamics have led some to question if the current administration is truly prioritizing Taiwan ◆ CNN, 2022-10-27: A hot war in Asia remains unlikely in the foreseeable future full text
Can "silicon shield" protect Taiwan?

CNN, 2022-12-9

Taiwan worries about losing its 'silicon shield'

/

TSMC

'

s presence gives a strong incentive to the West to defend Taiwan against any attempt by China to take it by force.

..

Chiu

(

a lawmaker

)

claimed that the chip giant was under political pressure to move its operations and its most advanced technology to the US.

edition.cnn.com/2022/12/09/tech/taiwan-tsmc-chips-hnk-intl/index.html

USA T

oday, 2022-12-9

America just won a major victory over China. If China seized control of Taiwan's semiconductor factories, the global economic loss would be "mutually assured destruction."

usatoday.com/story/opinion/columnist/2022/12/09/biden-tsmc-semiconductor-arizona-win-us-over-china/10847994002/

Financial Times, 2022-12-12

TSMC's

investments in the US and elsewhere are stoking fears over 'hollowing out' of Taiwan

'

s economy

...

Premier Su has already stated that TSMC is not free to transfer its technology wherever it wishes

ft.com/content/2408b289-dbf4-40db-87db-eb272aef68b9

New York Times, 2022-12-6

In Phoenix, a Taiwanese Chip Giant Builds a Hedge Against China

...

But the company set a limit on the factory's level of production technology

nytimes.com/2022/12/06/technology/tsmc-chips-factory-phoenix.html

Reuters, 2022-12

Taiwan seeks to reassure on TSMC commitment to island despite U.S. investment

msn.com/en-us/money/markets/taiwan-seeks-to-reassure-on-tsmc-commitment-to-island-despite-u-s-investment/ar-AA14ZR39

Bloomberg, 2022-10-7

some advocate the US make clear to China that it would destroy TSMC facilities if the island was occupied

...

Such a "scorched-earth strategy" scenario appeared in the November 2021 issue of the US Army War College Quarterly.

finance.yahoo.com/news/taiwan-tensions-spark-round-us-090131394.html?fr=sycsrp_catchall

TIME, 2022-10-5

Taiwan

'

s President Tsai Ing-wen recently argued in Foreign Affairs that the island

'

s chip industry is a "'silicon shield' that allows Taiwan to protect itself and others from aggressive attempts by authoritarian regimes to disrupt global supply chains." That

'

s a highly optimistic way of looking at the situation.

time.com/6219318/tsmc-taiwan-the-center-of-the-world/

New York Times, 2022-9-9

Taiwan

is protected by something far more subtle —The

"

silicon shield

"..

.If it is clear that China will be better off with a steady flow of chips from Taiwan, peace is likely to prevail

New York Times, 2022-8-29

Analysts debate how much protection China

'

s reliance on Taiwan gives it.

Some argue that calculations over supply chains are insignificant in a decision over war.

National Interest,

2022-5-15

Taiwan

'

s "silicon shield"—the name for a strategy that entrusts the island

'

s defense to both Chinese and American reliance on its semiconductors—is an outmoded concept that burdens the United States, emboldens Taiwan, and fails to deter China

VOA News, 2021-5-10

Song Hong, assistant general director at the Institute of World Economics and Politics under the Chinese Academy of Social Sciences

shrugged off the geopolitical implications of Taiwan's silicon shield, saying that China views Taiwanese issues as domestic affairs and will not be deterred from its goals by U.S. action
AIT (US)

, 2021-5-22

Taiwan should not regard TSMC as a guaranteed security blanket

.

Fox News, 2022-8-26

Why would the U.S. fight China over Taiwan, Trade is the key reason and the aforementioned importance of semiconductor production is the glue

The Atlantic, 2022-10-3

The U.S. Has a Microchip Problem. A Chinese attack on the island would imperil the world's supply of semiconductor components.

Safeguarding Taiwan Is the Solution.

theatlantic.com/international/archive/2022/10/taiwan-microchip-supply-chain-china/671615/

New York Times

,

2022-1-25

75 percent of production takes place in East Asia.

Ninety percent of the most advanced chips are made in Taiwan.

..China

could use economic coercion, cyberoperations and hybrid tactics to try to seize or harm Taiwan

'

s semiconductor industry — Biden promised he would work to bring production of semiconductor chips back to the United States.

nytimes.com/2022/01/26/us/politics/computer-chip-shortage-taiwan.html

C

BS News, 2022-9-25
Blinken said. "[Which is] one of the reasons we're now investing so heavily in our own capacity to produce semiconductors here in the United States. We designed them, but the actual production is done in a handful of places, and Taiwan produces most of them… The effects that that would have on the global economy would be devastating."


Taiwan dominates the global production of computer chips /
◆ BBC, 2022-1-12, source: The Military Balnce, IISS 2021

Taiwan
S. Korea
China
Other
65%
18%
5%
12%

news.yahoo.com/china-taiwan-really-simple-guide-142542268.html

 

 
pic. This websites-group was ranked No.1 by keyword "review Taiwan" on ecosia of Europe (Berlin Germany), 2023-4-30, 2023-4-15, 2023-3-23, 2023-3-20, 2023-2-28, 2023-1-21, 2023-1-1, 2022-12-24, 2022-12-17, 2022-11-29, 2022-11-1, 2022-10-23, 2022-10-10, 2022-9-23, 2022-9-16, 2022-9-3, 2022-8-23, 2022-7-29, 2022-7-21, 2022-2-3, 2021-10-20, 2021-9-29, 2021-9-19, 2021-8-22, 2021-8-5, 2021-7-24, 2021-5-26, 2021-5-9, 2021-4-18, 3-26-2021, 3-20-2021, 7-24-2020, 5-13-2020, 1-10-2020