World No.1& very top rankings ― Taiwan's Soft Power, comments by this site (U can compare with other articles)
"Soft Power" is Taiwan's current most important political strategy to deal with China and expand Taiwan's international space.
This website's ranking No.1 or very top on almost all world best search engines during the month when Dr. Joseph Nye visited Taiwan for making speeches under the theme of "soft power".
'Soft power' may includes a country's culture, creativity, human rights issues - democracy, freedom, corruption, women's rights, etc.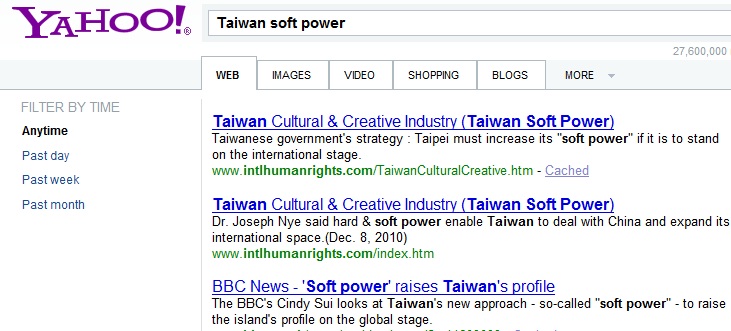 ★ No. 1 & 2 on yahoo by keyword " Taiwan soft power", Aug. 21, and Aug. 1, 2012
★ No. 1 on yahoo, Dec. 25, 2010, and Feb. 14, 2011

No.1 on Google , Dec. 10, 2010, ranking higher than news reports of "Soft Power" master Dr. Nye in Taiwan
 

★ No. 1 in Google, Dec. 25, 2010
 
No.1 in Lycos , Nov. 1, 2010


★ No.1 on MSN Hotbot , Dec. 25, 2010
No.1 on AltaVista , Dec. 25, 2010
No.1 in WebCrawler ( above 3 are sponsored ads. ) , Nov. 1, 2010

No.1 in AllTheWeb ( 3 images above are from this website too ) , Nov. 1, 2010
Ranking higher than UK's BBC news report about Taiwan's Soft Power
 
No.1 in Bing , Nov. 1, 2010
No.1 in Excite (above 2 are just sponsored ads. ) , Nov. 1, 2010
No.1 in AOL , Nov. 2, 2010 (above 3 are ads., below is the report regarding president Ma's speech issued by Taiwan's national news agency)
No.1 in Monster ( 3 above are just sponsored ads. ) , Nov. 1, 2010
No.1 on lyGO Hotbot, Dec. 25, 2010
No 1 in Yahoo ( Cultural Creativity is major part of soft power ) , Dec. 25, 2010
No.1 on Google , Dec. 25, 2010
No.1 on Google , Dec. 25, 2010
No. 1 and 2 on Google by Chinese keywords "Taiwan soft power" , Nov. 2, 2010
Chinese language version : http://intlHumanRights.com