pic.: No.1 "understand Taiwan" on Google, 11-17-2020, Nov. 3, 2020
pic.: No.1 "understand Taiwan" on Microsoft Bing, 11-29-2020, 10-10-2020, 8-5-2020
pic.: No.2 "understand Taiwan" on Google, 10-28-2020
pic.: The sites-group was ranked No.1 by "understand Taiwan" on Bing search, 8-17-2020, 6-21-2020, 5-13-2020, 4-3-2020,
2-26-2020, 2-5-2020, 12-31-2019, 12-10-2019
No.1 "understand Taiwan" on Swisscows (Switzerland), 11-17-2020, 8-17-2020, 6-21-2020
No.1 "understand Taiwan" on Yahoo Taiwan, 11-17-2020, 8-17-2020
No.1 "understand Taiwan" on ecosia (Germany), 11-17-2020, 8-17-2020
pic.: No.1 "understand Taiwan" on Lycos, 11-17-2020, 8-17-2020, 5-13-2020
pic.: No.1 "understand Taiwan" on Excite, 11-17-2020, 8-17-2020, 05-13-2020
pic.: top 2 "understand Taiwan" on Yahoo Japan (largest in Japan), 8-17-2020, 5-19-2020
pic.: No.2 "understand Taiwan" on QWANT (most well-known engine in France) , 8-17-2020, 7-6-2020
pic.: No.2 "understand Taiwan" on Dogpile, 8-17-2020, 05-13-2020
pic.: The sites-group was ranked No. 2 by "understand Taiwan" on ASK, 8-17-2020 , 5-13-2020 (items above are ads.)
pic.: The sites-group was ranked No.1 by "understand Taiwan" on US Google, 4-22-2020, 4-4-2020, 2-28-2020, 2-26-2020
pic.: The sites-group was ranked No.1 by "understand Taiwan" on Yippy (IBM), 5-13-2020, 2-5-2020, 12-10-2019

pic.: The sites-group was ranked top 2 by "understand Taiwan" on Yahoo search engine, 5-13-2020,
2-26-2020, 2-5-2020, 12-31-2019, 12-10-2019
pic.: The sites-group was ranked No.1 by "understand Taiwan" on MetaGER of Europe, 5-13-2020, 4-3-2020,
2-5-2020, 12-31-2019, 12-10-2019
pic.: The sites-group was ranked No.1 by "understand Taiwan" on US Google, 7-12-2019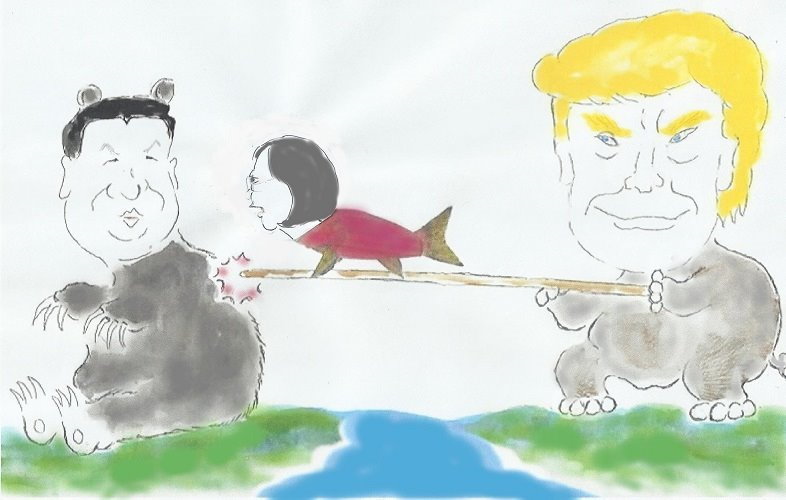 <Foreign Policy> names Taiwan President Tsai as one of leading thinkers of 2016
for "Poking the bear" / 12-14-2016
Salmon is poking the bear ? Taiwan suffers in danger !
● The Interpreter , The LOWY Institute ( Australia ), 6-16-2020 :
treating Taiwan as a conduit to frustrate Beijing imperils Taiwan's security.
Already many in China's party-state suspect that the US intends to promote Taiwan independence, ...
The risk here is that U.S. policy encourages an overreaction from China, upsetting the
cross-straits status quo or whatever remains of it, and
then the United States abandons Taiwan to deal with the consequences. 
 
◆ DW (Germany) ,11-10-2020:The Biden administration will have to make it quite clear
from the outset whether it is ready to go to war for Taiwan's sake

◆ Japan Sankei Shimbun ( 產經新聞),10-29-2020:Japan's DM 岸信夫: Given military imbalance of
both sides, anything can happen, Taiwan must be very cautious
 
◆ WSJ,10-13-2020: continued ambiguity in the face of Xi's escalating rhetoric and provocative movements by his armed forces
in the Taiwan Strait presents the greater risk of a confrontation as dangerous as the Cuban Missile Crisis
 
◆ Bloomberg news 3-14-2018: In the future, Taiwan will suffer even more, as it
gets caught in the middle between a stronger China and a inward-looking US...
◆ Chicago Tribune, Yahoo News,10-12-2020: We should defend Taiwan... Yet, to be effective as a deterrent, Beijing has to see it as
a defensive move by Washington, aimed at preserving the status quo, and not as part of a new offensive against China
◆ Economist,10-9-2020: China could wipe out Taiwan's navy and air force ... Taiwan's preparedness and its will to fight both look shaky.
Many insiders are accordingly pessimistic about its ability to hold out.

◆ New York Times at 4-18-2018: The U.S. and Taiwan are seen
as heading in a direction that is getting perilously close to
Chinese red lines...... (Taiwan president Tsai stated)
" Many people say we are pawns of other people ......"
◆ CNN 2-19-2020: TW president: "What we are expecting is, after withstanding the first wave of
Chinese attacks ourselves, the rest of the world would stand up to exert strong pressure on China" ....
"Taiwan as an underdog facing down the growing might of Beijing" ... Taiwan military
Washington Post, 8-20-2018:
Taiwan's precarious role in the China-US spat !
(Trump adm.'s Taiwan policy is unpredictable);
United Daily, 1-4-2020, editorial opinion : Taiwan functions as a chess piece to block China
in American's containment chessboard, if Taiwan doesn't follow every order American gives , The US Indo-Pacific strategy has a gap ...
New York Times 9-5-2019: it would also be a catastrophe if Taiwan were blockaded or squashed into submission, because Taiwan ...
and stands in the way of any Chinese projection into the Pacific or toward, say, Okinawa.
Independent UK, 7-23-2019: China "ready to go to war" if Taiwan tries to gain independence
( white paper released by the Chinese gov.).
 

 

● Taiwan's hard power

● Foreign Policy, 10-19-2020: Taiwan needs huge arsenals of mobile missile launchers, armed drones, and mines; developing an army that can surge
tens of thousands of troops to any beach in an hour backed by a million-strong reserve force trained to fight guerrilla-style in Taiwan's cities and jungles.
it could take a decade to retool the Taiwanese and U.S. militaries to mount an effective defense of the island.
With China's rapid military buildup, that may be time that Taiwan does not have
● New York times, 8-30-2020: Taiwan's Lawmaker said Taiwan's military needs to improve a lot
● Forbes, 8-30-2020: Taiwan simply does not have enough firepower to defeat a Chinese invasion without the help of the U.S. military
 

 

Taiwanese military

opinions

 
personnel ( soldiers, officials )
◆ Taiwan's Military Is a Hollow Shell. US Defense Department officials have privately expressed dismal assessments regarding Taiwan's current force level and reserve system.
◆ armor, mechanized infantry, and artillery units are always in desperate shortage of enlisted soldiers
◆ few front-line units have more than 80 percent of their positions filled / Foreign Policy, 2-15-2020; https://foreignpolicy.com/2020/02/15/china-threat-invasion-conscription-taiwans-military-is-a-hollow-shell/
◆ Taiwan's active force down to under 200,000 (the exact number is classified). The nearly two million reservists exist in name only... / New York times, 5-18-2017
◆ The ROC (Taiwan) Armed Forces number approximately 300,000, and reserves reportedly total 3,870,000. / Wikipedia, May 2020

◆ Taiwan began to phase out mandatory conscription for all young men, which was deeply unpopular, in favor of an all-volunteer force; 4 months of compulsory service ... training is "insufficient to meet the challenges posed by the increasing threat (RAND, '17) / New York times, 8-30-2020 https://www.nytimes.com/2020/08/30/world/asia/taiwan-china-military.html

◆ Only 310 thousands out of 770 thousands of qualified reservists were called up for short-term military training, from 2015 to 2017, 61 thousands of those escaped the duty / Formosa TV news, 8-3-2018, storm.mg 10-15-2019
◆ only 84,000 are demobilised volunteer force soldiers, the best-trained and most motivated group / Financial Times, 7-12-2020

◆ Taiwan's military is also not in the most optimal state. For instance, Taiwanese males serve only four months of conscripted military service, in comparison to over 20 months for Singaporean men and at least 18 months for South Korean men. / Hong Kong Free Press 7-15-2020

◆ Reserve force is short of both officers and sergeants, their speciality far match the position / United Daily, 10-2-2020

 
strategy
◆ To against the threats of cyber warfare, cognitive warfare, and 'unrestricted' warfare from China , Taiwan we work to bolster our defense capabilities, future combat capacity development will also emphasize mobility, countermeasures, and non-traditional, asymmetrical capabilities (unconventional arms)" / Taiwan president inauguration speech, Voice of American, 5-20-2020
◆ so called asymmetrical capabilities in Taiwan is only skin-deep /

United Daily

, editorial, 6-6-2020


◆ Taiwan's weird strategy: Facing PLA's attacks, Taiwan's warplanes stay inside tunnels, warships leave Taiwan, await till the US military comes to rescue, they will return and join the war / Apple Daily, 8-14-2020 tw.appledaily.com/headline/20200814/KDQ5JJAYQUR5JLE6EIIXK5VJM4/

 

firepower

◆ France forced Taiwan to withdraw its request to upgrade 20-year-old Mirage fighters ... F-16 A/B and F-CK-1 fighters are growing tired; 60 or 70 new fighters and a few missiles won't really change the balance of power. And heavy tanks – especially if they lack trained crews – won't do much to stop a Chinese invasion / Forbes, 8-30-2020
◆ A whole lot of Taiwan's weapons don't work. / Forbes, 9-4-2020 forbes.com/sites/davidaxe/2020/09/04/which-of-taiwans-old-weapons-still-work/#340d2ee156a2

◆ China could wipe out Taiwan's navy and air force ... Many insiders are accordingly pessimistic about its ability to hold out. / Economist,10-9-2020

◆ the PLA could, without invading, destroy Taiwanese military, power and telecom facilities, embargo oil imports, cut cyber connectivity, then take advantage of the psychological impact on Taiwan to press for negotiations / Politico,10-8-2020

◆ Today China has more and better conventional forces than Taiwan. / Forbes, 6-3-2020

◆ China has nuclear bomb ,Neutron bomb, hydrogen bomb, Taiwan has none of those. / Next TV news, 5-8-2020
◆ Three Taiwanese presidents Lee (李登輝後期)、Chen(陳水扁)、Tsai(蔡英文) squandering those "bonus for peace" military budget and underestimating the demand of national defense, lead to shortage of arms-deal budget. / United Daily , editorial, 6-6-2020
◆ Taiwan military strength is ranked No. 26 , China PLA No. 3 / Global FirePower, 2020
◆ A major obstacle is that countries that might sell it the most sophisticated weaponry are increasingly reluctant to do so for fear of provoking China, ... / New York times, 11-4-2017

 

military logistics system

◆ The logistics inside the military remain so abysmal ... The army likely has no clue how many tanks or guns actually mission-capable ... / Foreign Policy, 8-20-2020

◆ Taiwan lacks enough supplement of all items of military equipments / United Daily (聯合報 社評), opinion, 5- 7- 2020

 

morale

◆

Taiwan's famous politician : "Taiwan can't face the might of China alone, We can't fight China on our own". in spite of Economist , NY Times

(8-30-2020)

advised Taiwan not to rely on the US military ... /

NY Times, 11-24-2020




◆

As China Threatens War, Nearly Everyone in Taiwan Wants Peace: Poll /

Newsweek, 10-28-2020

◆ "Their underlying thinking is that PLA has grown to be too strong for us to fight militarily anyway... Taiwan should just focus on putting up a good show of being tough, buy enough U.S. weapons for display, and pray that Americans come to our rescue / Foreign Policy, 8-20-2020 https://foreignpolicy.com/2020/08/20/taiwan-military-flashy-american-weapons-no-ammo/

◆ Taiwan's preparedness and its will to fight both look shaky / Economist,10-9-2020

◆ Policies put forward by the Kuomintang and the independence-leaning Democratic Progressive Party have left the military understaffed and in a state of low morale... / New York times, 5-18-2017
◆ Taiwan fears uptick in military threat from China in wake of coronavirus epidemic ... / Financial Times 5-19-2020

 

 

combat experience

◆ Taiwan's army has trouble with training across the board. Many insiders are accordingly pessimistic about its ability to hold out. / Economist,10-9-2020

◆ The military combines 4 drills to one per year for battle and propaganda-show, affecting training effect , high percentage of military officers hence are not familiar with combat mission. / ref to China Times, 7-7-2020, opinion www.chinatimes.com/opinion/20200707004603-262105?chdtv 蘭寧利》; https://www.chinatimes.com/realtimenews/20200707006231-260417?chdtv

 

discipline

◆ The practice of judicial system has proved not as good as military criminal code to educate and train the military discipline. A s

oldier's

洪仲丘 'torture to death"

sparks massive protest around 2013

, the military court was hence no longer to judge the troops . / The China Times, 7-17-2020, editorial
 

budget

◆ High personnel expense pushes aside the logistics and maintenance budget, the govt. needs to plan special budge to purchase arms. / The China Times, 7-17-2020, editorial

◆ Taiwan would increase Taiwan's defense budget by 10 percent, on top of a 5 percent increase the year before. That would raise military spending to more than 2 percent of gross domestic product / New York times, 8-30-2020

 
For full text click Taiwan military
The People's Daily, 10-15-2020 , Global Times, 10-15-2020: "Don't say we didn't warn you" (「勿謂言之不預」)...

http://www.nexttv.com.tw/NextTV/News/Home/LatestNews/2020-10-17/275597.html

Taiwan, Next TV, 壹新聞, 10-17-2020

The People's Daily《告台灣情治部門書》full text : http://js.people.com.cn/BIG5/n2/2020/1015/c359574-34350271.html

 

● Economist,10-22-2020: The People's Daily, (CCP's mouthpiece《人民日報》), carried a commentary... using a phrase—"Don't say we didn't warn you (ps: Taiwan intelligence)" — that has preceded Chinese military action against other countries in the past
● After China's mouthpiece, People's Daily or XinHua editorial issued a severe warning "Don't say we didn't warn you" in 1962、1967、1978,Chinese PLA started military operations against Indian and Vietnamese troops respectively.
● The People's Daily in Nov. 2019 sent a warning "Don't say we didn't warn you" to Hong Kongers, in the next year China cracked down HK, and passed a national security law on Hong Kong.
● This time the People's Daily put its warning to Taiwan's intelligence in "opinion" , instead of "editorial" column as before, and on "7th edition" instead of 1st~4th edition as before, ... therefore, it's serious but not as severe as before, probably a warning for coercion or "gray zone" actions such as blockage or economic intervenes, or a pressure expecting Taiwan's giving up ... those sort of psychological war.
● Washington Post (7-22-2020) : In 2019, Xi (Chinese president) offered an ultimatum to Taiwan to come to the table for unification talks or face annexation by force. Soon later PLA's warplanes crossed the Taiwan Strait "median line" ( "the de facto cease-fire line") first time ever since 1949, according to Newsweek 8-12-2020, and the PRC deliberately ratcheted up tensions till now.
● SCMP (Hong Kong), 10-20-2020: ... unusually strong language in a recent commentary in People's Daily invoking the phrase "don't say we didn't warn you", serves as a reminder, which was targeting a big rise in the number of Taiwanese intelligence agents active on the mainland, but was aimed at a much wider audience.

 

 
 

 

Taiwan's travel & tourism - 10th in Asia

 

World Economic Forum (WEF) <Travel and tourism competitiveness report> released at 9-4-2019 shows Taiwan had the sub-region's largest decline in competitiveness from 30th down to 37th. Taiwan ranks No.10 among Asian countries. for details : click tourism
 

WEF travel & tourism category

Taiwan's rankings and/or score

comparison

prioritization of travel and tourism
No75
Singapore No.6 , Hong Kong No. 11
Natural & cultural resources
No.58 score 2.6
China No.1, score 6.0 , France No.2, 5.0, Spain No.3, 5.7, Japan No.7, 5.3, Indonesia No.18, Thailand No.21, Korea No.24, Vietnam No.26, Malaysia No.31, HK No.40, Philippines No.46, Sri Lanka No.52, Nepal No.56
Natural resources
No. 87
Hong Kong No. 42, Singapore No.120
 
cultural resources & business travel
No. 36 score 2.6
China No1, score 7.0
price competitiveness
No. 78
China 5.7
Health & Hygiene
No.43, score 6
score worse than Korea, Japan, Mongolia
international openness
No. 60
only better than China, Mongolia
Safety & security
No. 26
human resource & labor market: Taiwan No.18

ps: Compared to the report of 2017, Taiwan significantly tightened visa requirements (37th down to 119th), waning cultural resources and business travel (26th to 36th) and recalibrated figures showing a drastic reduction in protected areas (20th to 118th).

For full details : http://www3.weforum.org/docs/WEF_TTCR_2019.pdf

 

According to World Economic Forum (WEF) <Travel and tourism competitiveness report> (released at 4-6-2017), Taiwan's most important indexes for promoting tourism, like "Attractiveness of Natural Assets" (parks, beaches, mountains, wildlife, etc) ranks world No.87, "Natural Resources" ranks No.55, "Environmental Sustainability" ranks No.75 (No.69 in 2015), "Price Competitiveness" ranks No. 46, "Hotel Price Index" ranks No. 89 (82 in 2015), Taiwan got "n/a" on China's world top 5 indexes such as "World heritage natural sites" as well as "World heritage cultural sites".
comment Taiwan travel and tourism, No.1 on internet, pls. click for details